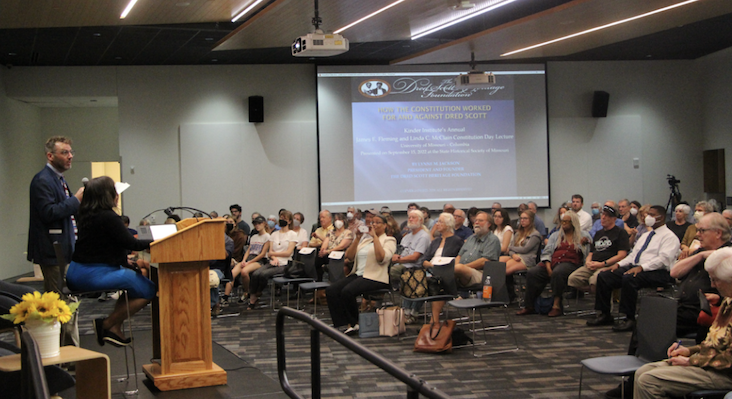 Since we opened our doors in Fall 2014, public programming has been at the heart of the Kinder Institute's mission to cultivate rich consideration and discussion of the intellectual foundations, complex history and present state of constitutional democracy around the globe. Much of this programming happens in our seminar room high atop Jesse Hall, where we host a biweekly Friday Colloquium Series during the school year, which brings leading scholars of political theory and political history to campus to share their research with students, faculty, and community members.
We also collaborate frequently with other units at Mizzou to bring speakers to Columbia whose work advances our mission, and we are excited to continue this cooperative tradition going forward. Any department or organization on campus who has an upcoming event that they would like us to consider for co-sponsorship can complete the brief application below, and submit it to Kinder Institute Program Coordinator Caroline Spalding, cspalding@missouri.edu, for circulation to the review committee.
We will evaluate applications for co-sponsorship year-round, on a rolling basis, but require that they be submitted at least two months in advance of the date of the event for which support is being requested.
See the "Past Collaborations" tab for recent co-sponsored events that align with the Kinder Institute mission.
Whether events that we worked with campus partners on designing, or events designed by other units that we offered support for, these are some of the talks and conferences from past years that we've been delighted to help get off the ground.
"Dobbs v. Jackson Women's Health Organization: 'The Roar of a Wave that Could Drown the Whole World," March 2023 Lecture with Boston University Honorable Paul J. Liacos Professor of Law James E. Fleming (co-sponsored with the MU Law School)
"How the Constitution Worked for and against Dred Scott," September 2022 Constitution Day Lecture with Dred Scott Heritage Foundation Founder and President Lynne M. Jackson (co-sponsored with the MU Department of Black Studies and Michael A. Middleton Center on Race, Citizenship, and Justice)
"Haiti in the Atlantic World," March 2020 Conference Hosted by the MU School of Language, Literature, and Culture's Afro-Romance Institute (co-sponsored by the Kinder Institute)
"Making Freedom: How the Enslaved Undermined Slavery," February 2019 MU Black History Month Lecture with Vanderbilt University Andrew Jackson Professor of History Richard Blackett (co-sponsored by the Kinder Institute)
"Settler Colonialism and the History of U.S. Women's Property Rights," March 2018 Women's History Month Keynote Lecture with Western University Associate Professor of History Laurel Shire (co-sponsored by the Kinder Institute)
"The Country's Plight and How We Escaped It," Pulitzer Prize Centennial Campfires Initiative Lecture with University of California-Davis Professor of History Eric Rauchway (co-sponsored with the Reynolds Journalism Institute)
In the past, the Kinder Institute has supported events designed by campus partners in a variety of ways, including: graphic design assistance, joint marketing and communications, assistance with finding speakers appropriate for a given program, and financial contributions of $500-$2,000.
For questions about co-sponsorship and to submit an application, contact Kinder Institute Program Coordinator Caroline Spalding, cspalding@missouri.edu. To be added to the mailing list of people on and around campus who receive notice about events happening at the Kinder Institute, contact Thomas Kane, kanetc@missouri.edu.