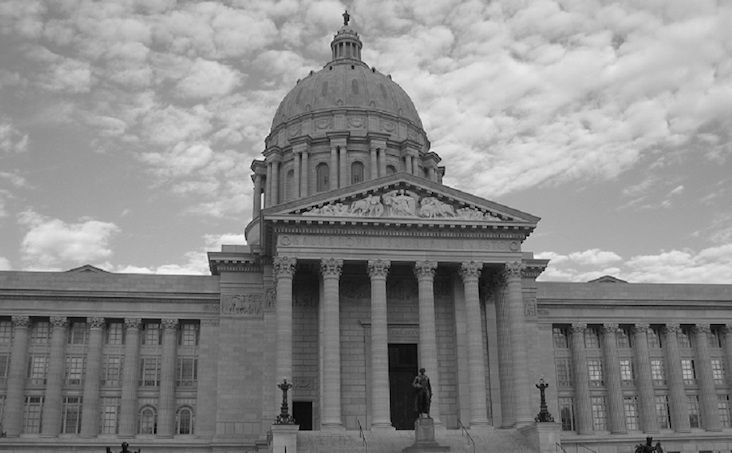 Constitutional Revision in Missouri
Fall 2019 Panel Discussion
Missouri has one of the longest state constitutions in the U.S, and it seemingly grows every time Missourians go to the polls. Why is this and what constraints does it impose on legislators? Should something be done to resolve this issue and, if so, what? On October 4 at 5:30pm in the State Historical Society of Missouri's Cook Hall, these and other questions will be addressed in a panel discussion on the complex history and process of constitutional revision in Missouri. Panelists will include Kinder Institute Director Justin Dyer, former Missouri Solicitor General James R. Layton, Wake Forest Professor of Political Science John Dinan, and Saint Louis University Law School Professor and Dean Emeritus Michael Wolff. The event has been made possible thanks to the generous support of the Show-Me Institute.
A professor in Wake Forest College's Department of Politics and International Studies, John Dinan is the author of a number of books, including State Constitutional Politics: Governing by Amendment in the American States and The American State Constitutional Tradition.
Justin Dyer is Director of the Kinder Institute and a professor in MU's Department of Political Science. His most recent book, co-authored with Greg Casey, is A Guide to the Missouri Constitution, published in February 2017 by W.W. Norton & Co.
James. R Layton joined Tueth Keeney in St. Louis after 22 years in the Missouri Attorney General's Office, nearly all of them spent as Solicitor General. He is also a longstanding adjunct professor at the University of Missouri Law School.
Michael A. Wolff served for 13 years on the Supreme Court of Missouri, including two years as Chief Justice. He is Professor and Dean Emeritus at Saint Louis University Law School, and his current law practice involves select matters related to litigation, governmental affairs, and public interest law.