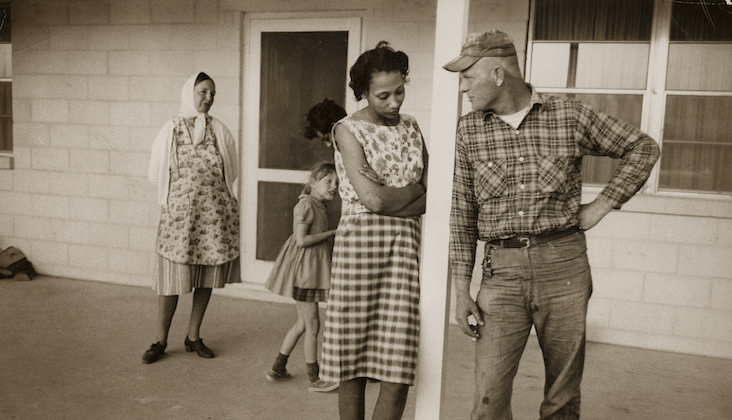 Prejudice, Moral Progress, and not Being "On the Wrong Side of History"
Fall 2017 Academic Workshop
The Kinder Institute invites scholars from across all disciplines on campus to a workshop discussion of a chapter draft on the legacy of Loving v. Virginia (1967) from Boston University Professor of Law and Paul M. Siskind Research Scholar Linda McClain's book-in-progress, Bigotry, Conscience, and Marriage: Past and Present Controversies (under contract with Oxford University Press). See below for an abstract of the chapter to be examined (which will be made available prior to the workshop) as well as an overview of Prof. McClain's current book project. The workshop will be held at 3:30 PM in Jesse Hall 410, following Prof. James E. Fleming's 1:00 PM lecture in Hulston Hall 7.
The workshop is open to the public, but space is limited, so interested parties should RSVP to Thomas Kane (KaneTC@missouri.edu) to secure a spot.
Abstract
Loving v. Virginia (1967) recently turned fifty. This iconic case remains significant in both the family law canon and the civil rights canon. No Supreme Court precedent proved more central to the battle over same-sex marriage than Loving, but participants have disagreed over the analogy between objections to interracial and to same-sex marriage and over the meaning of the civil rights past. For example, in a challenge brought by same-sex couples to Virginia's ban on same-sex marriage, the Attorney General of Virginia declined to defend the ban, asserting that he did not want to be "on the wrong side of history," by contrast to his predecessors, who defended racially discriminatory laws in Loving and Brown v. Board of Education (1954) and sex-discriminatory laws in U.S. v. Virginia (1996). What does that statement imply about when "insight" about objectionable discrimination is possible? In this workshop paper, I revisit the party and amicus briefs, oral argument, and opinions in Loving, tracing the rhetoric of bigotry, prejudice, and conscience in arguments challenging or defending Virginia's antimiscegenation law. I argue that Loving illustrates the theme of moral progress in our constitutional jurisprudence: laws once justified by appeal to nature, God's law and plan for the races, and societal well-being are repudiated as instead rooted in prejudice. I also look at competing uses made of Loving in recent constitutional litigation over civil marriage equality and conflicts over conscience-based religious exemptions from antidiscrimination laws.
Book/Workshop Overview
This workshop paper is a draft chapter from my book-in-progress, Bigotry, Conscience, and Marriage: Past and Present Controversies, which addresses a number of puzzles about bigotry. I argue that the controversy over civil marriage equality for same-sex couples and the proliferating conflicts between religious liberty and LGBT rights make it imperative to examine the concept of bigotry and its relationship to conscience. The abundance of charges, denials, and countercharges of bigotry in the 2016 presidential campaign and now in connection with the Trump Administration itself also demonstrate the need to consider whether the term "bigotry" has meaning beyond invective. One puzzle concerns whether bigotry relates to the motivation for a belief or to the content of that belief and the conduct it justifies. Another puzzle concerns the temporal dimension of charges and denials of bigotry. Is "bigotry" just the word we use for views that have ceased to be acceptable, such as support for white supremacy and racial segregation? Yet another puzzle concerns whether there are distinct psychological or moral traits of a bigot. Does "bigot" suggest a particular type of (bad) character? These questions pervade the book and underlie the chapter.

Linda C. McClain received her M.A. from the University of Chicago Divinity School, her J.D. from Georgetown University Law Center, and her LLM from New York University School of Law, and she currently serves as Professor of Law and Paul M. Siskind Research Scholar at Boston University School of Law. Her research interests span the fields of Civil Rights, Family Law, and Religion & Law, and she is the author of The Place of Families: Fostering Capacity, Equality, and Responsibility (Harvard University Press, 2006); the co-author of What is Parenthood?: Contemporary Debates about the Family (NYU Press, 2013), with McGill University Prof. Daniel Cere, and Ordered Liberty: Rights, Responsibilities, and Virtues (Harvard University Press, 2013), with Boston University Prof. James E. Fleming; and the co-editor, with Southern Methodist University Prof. Joanna L. Grossman, of Gender Equality: Dimensions of Women's Equal Citizenship (Cambridge University Press, 2009; paperback, 2012). Prof. McClain served during the 2016-17 academic year as a Laurance S. Rockefeller Visiting Faculty Fellow at Princeton University's University Center for Human Values, and she is a former faculty fellow at the Harvard University Center for Ethics and the Professions (now the Safra Center).