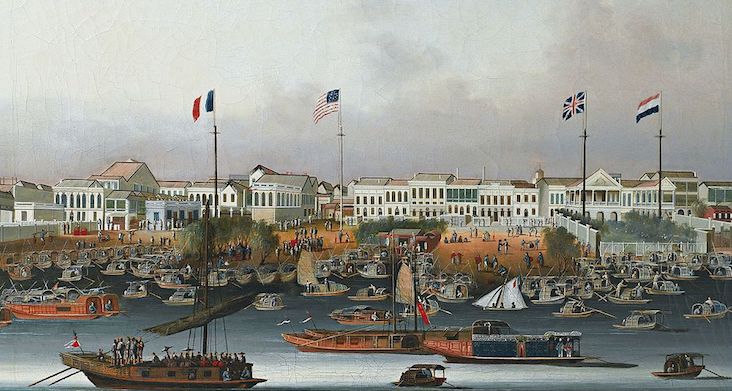 Destabilizing Entanglements
Spring 2019 Missouri Regional Seminar on Early American History
The Missouri Regional Seminar on Early American History is back for another run this spring, kicking off on February 1 in St. Louis with a discussion of University of Delaware Assistant Professor of History Dael Norwood's paper, "Destabilizing Entanglements: How the Flow of Opium, Cotton, and Capital Restructured Americans' Relationships with China, Britain, and Their Own Government in the Jacksonian Era" (see abstract below). A copy of Prof. Norwood's paper can be found here. Parties interested in attending should contact Kinder Institute Communications Associate Thomas Kane, KaneTC@missouri.edu, for more details.
Abstract
This paper examines how and why China, Britain, and the United States became newly entangled in the Jacksonian era through their shared immersion in the global currents of financial capital. Circulating globally in the form of silver dollars, bank drafts, and bills of exchange, mobile capital enabled the cotton frontier to expand in the South, industrialization to take root in the North, and the opium traffic to take over American trade in China. Like the plantations along the Mississippi River, the smuggler's ports of the Pearl River Delta were significant sites of Americans' engagement with the creatively destructive forces of modern global capitalist development. As such, they provide a productive perspective from which to analyze how a new era of globalization destabilized and restructured American institutions—with consequences for US banking policy, Chinese sovereignty, and Americans' developing diplomatic relations with Asia.

Dael A. Norwood is a historian of the nineteenth-century United States, specializing in the global dimensions of American politics and economics. He earned his doctorate at Princeton University in 2012. Norwood is now finishing his first book, entitled Trading in Freedom: How Trade with China Defined Early America. Under contract with the University of Chicago Press, Trading in Freedom examines how the flourishing commerce between the United States and China intertwined with the struggles over sovereignty, citizenship, and race that defined the first century of the American state. He is also working on a new project that uses print culture conversations about capitalism as a career in order to understand how "the businessman" became such a potent political and cultural identity in America.