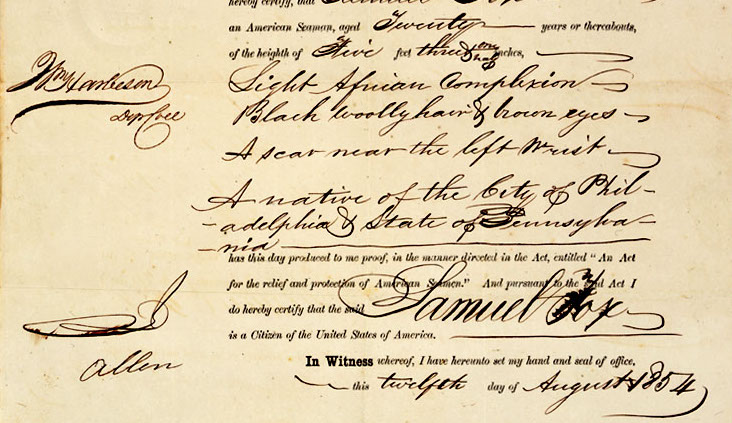 The Multiple Fates of Black Citizenship in the Early Republic
April 2018 MRSEAH with University of Pennsylvania's Sarah Gronningsater
For the second MRSEAH meeting of the Spring 2018 semester, participants will gather in Columbia on April 6 for a discussion of University of Pennsylvania Assistant Professor of History Sarah L.H. Gronningsater's paper, "'Expressly Recognized by Our Election Laws': Certificates of Freedom and the Multiple Fates of Black Citizenship in the Early Republic" (see abstract below).
After a brief break, the group will re-convene for dinner and a new adventure in MRSEAH history. Rather than the typical dinner lecture, Kinder Institute Postdoctoral Fellow in Political History Billy Coleman will discuss and perform selections from his currently in-progress book soundtrack for Harnessing Harmony: Music, Power, and Politics in the United States, 1788-1865 (forthcoming from UNC Press), a unique project that focuses not on recreating what songs from the past used to sound like but instead on reinterpreting them in ways that make sense in the present.
In addition to the paper and accompanying table circulated to participants in the April 6 MRSEAH, the images below are referred to in the course of Prof. Gronningsater's article.
Image 1a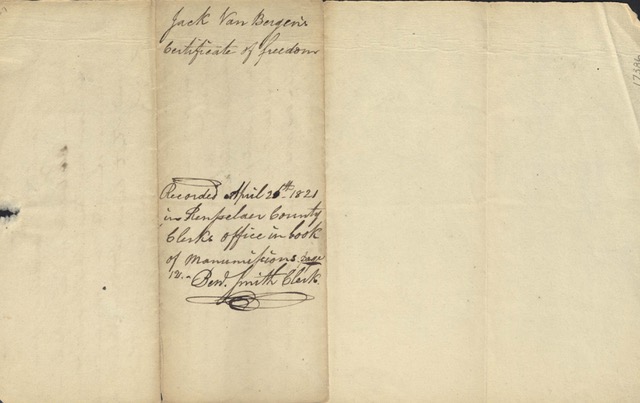 Image 1b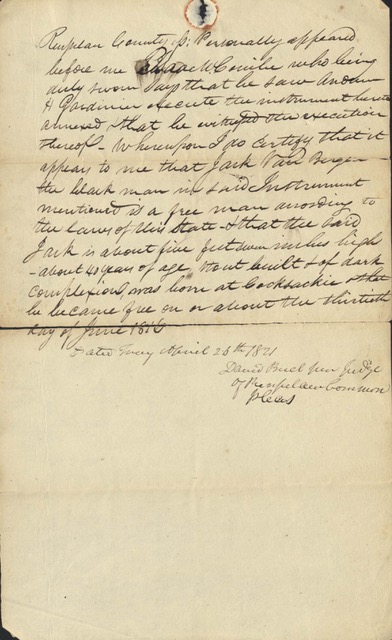 Image 3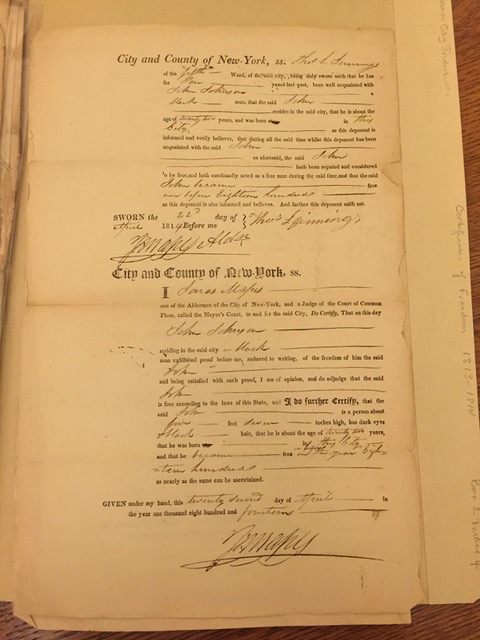 Abstract
In this article, I discuss a neglected and misunderstood source base in the political history of the early republic: New York State's certificates of freedom. Between 1811 and 1821, New York State required black voters to acquire these certificates in order to participate in elections. Exploring surviving certificates from across the state, I examine who went to the polls in the early republic and how they navigated the rules and procedures of certificate laws. I make several arguments about the ways in which these certificates both defined and circumscribed black citizenship as a formal legal and political category, and also use these sources to think about how we can connect local histories to state histories, and even to national histories, of politics in the early republic.

Sarah L.H. Gronningsater received her A.B. in History and Literature from Harvard University, her M.St. (with distinction) in History from University of Oxford, and her Ph.D. in History from University of Chicago. She currently serves as Assistant Professor of History at University of Pennsylvania, after spending 2014-2016 as a Barra Postdoctoral Fellow at the McNeil Center for Early American Studies and 2016-2017 as a Research Assistant Professor of History at California Institute of Technology. Her first book, The Arc of Abolition: The Children of Gradual Emancipation and the Origins of National Freedom, is under contract with University of Pennsylvania Press, and she has published or will soon publish chapters in Prof. Anna Mae Duane's recent edited volume, Child Slavery before and after Emancipation (Cambridge University Press, 2017), and Profs. Van Gosse and David Waldstreicher's Emancipations, Reconstructions, and Revolutions: African American Politics and U.S. History from the First to the Second Civil War (forthcoming, Penn Press). Prof. Gronningsater has received fellowships and awards from the Andrew W. Mellon Foundation, the New York Historical Society, the Society for Historians of the Early American Republic, and the American Society for Legal History, among other places, and her article "Louis Napoleon, Northern Black Legal Culture, and the Politics of Sectional Crisis" appears in the June 2017 volume of Journal of the Civil War Era.