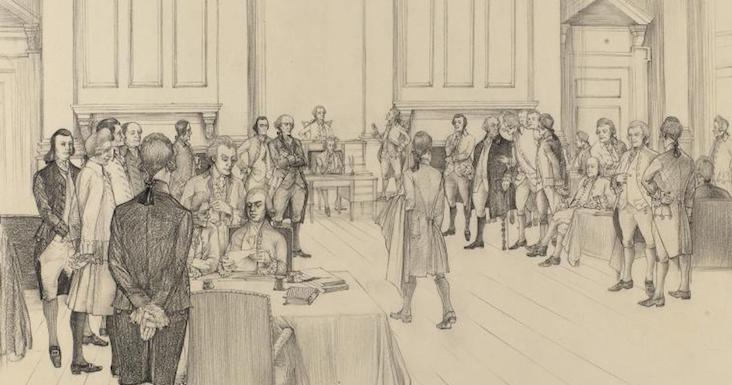 The Unknown Story of American Constitutional Creation
Spring 2019 Colloquium Series
In celebration of Valentine's Day, Stanford Assistant Professor of History Jonathan Gienapp, in town to participate in the February 15-16 conference on the Missouri Crisis, will give a talk exploring how the uncertainty that surrounded the Constitution in early America, and the fights that raged among leaders over how to imagine it, ultimately helped give the nation's framing document the shape and definition it had previously lacked (see full abstract below). The talk, a rare Thursday colloquium, will be held at 3:30pm in Jesse Hall 410.
Abstract
Americans widely believe that the United States Constitution was created when it was drafted in 1787 and ratified in 1788. But when the Constitution first appeared, it was shrouded in uncertainty. Not only was its meaning unclear, but so too was its essential nature. Was the American Constitution a written text, or something else? Was it a legal text? Was it finished or unfinished? What rules would guide its interpretation? Who would adjudicate competing readings?  As political leaders put the Constitution to work, none of these questions had answers. In confronting that uncertainty, American political leaders fought over how to imagine the Constitution—its content, its properties, its character. In the process, they helped give the Constitution shape and definition that it had previously lacked and thus played a foundational role in creating, as much as interpreting, the nation's supreme governing instrument.

Jonathan Gienapp received his B.A. from Harvard University and his M.A. and Ph.D. from Johns Hopkins, and he currently serves as an Assistant Professor in Stanford's Department of history, focusing on Revolutionary and early republican America, with particular interest in the period's political culture, constitutionalism, and intellectual history. He is the author of The Second Creation: Fixing the American Constitution in the Founding Era (Harvard University Press), and has published articles in Constitutional Commentary, Journal of the Early Republic, and Fordham Law Review.