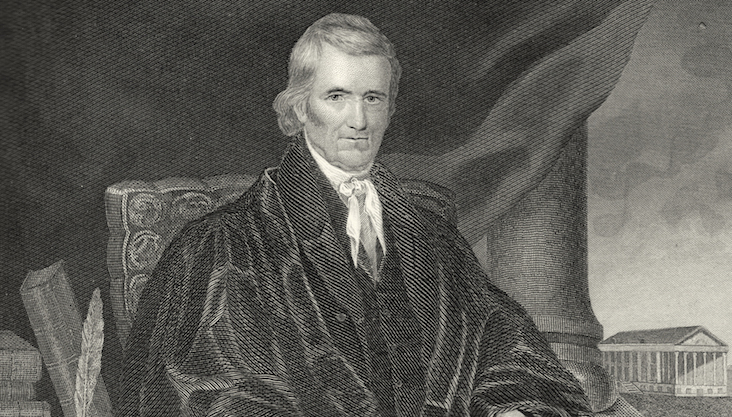 John Marshall, Marbury v. Madison, and the Construction of Constitutional Legitimacy
Spring 2019 Colloquium Series
The Kinder Institute's Colloquium Series continues with Villanova visiting faculty member Clyde Ray's talk tracing Chief Justice John Marshall's landmark opinion in Marbury v. Madison (1803) to contemporary interpretations of the concept of constitutional legitimacy (see abstract below). The talk is free and open to the public and will be held on February 8 at 3:30pm in Jesse Hall 410.
Abstract
My talk considers Chief Justice John Marshall's famous opinion in Marbury v. Madison (1803) as a vehicle for investigating contemporary interpretations of both John Marshall and the concept of constitutional legitimacy. I will discuss how Marshall's opinion located legitimacy in several aspects of the Constitution, including its protection of rights, its embodiment of the consent of the governed, and its ability to organize and direct national politics. Yet more than simply uniting existing approaches to legitimacy, I suggest that Marbury offers a unique theory of the Constitution's moral legitimacy as well. I hope my talk will help us see Marshall as not only a legal and political thinker, but also a constitutional theorist with a distinctive understanding of the American Constitution and its role in the early years of the republic.

Clyde Ray received his Ph.D. in Political Science from the University of North Carolina and currently serves as a visiting faculty member in the Augustine and Culture seminar series at Villanova University, where he arrived after a stint as a postdoctoral research associate in Duke University's Department of Political Science. His book on John Marshall's political thought, John Marshall's Constitutionalism, is forthcoming in June 2019 from the State University of New York Press.