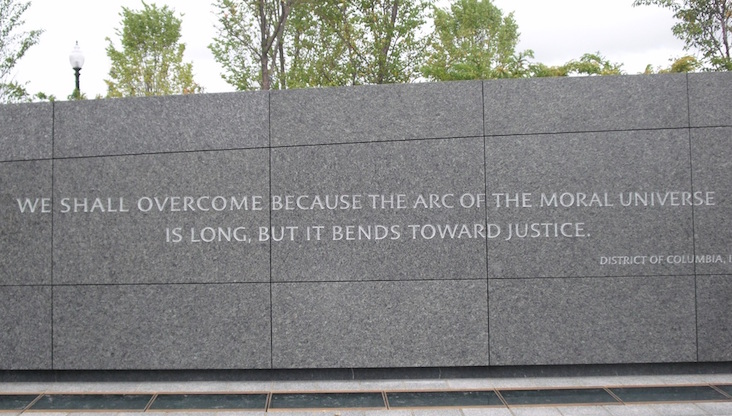 Justice and Utility
Fall 2017 Community Seminar
Kinder Institute Director and Professor of Political Science Justin Dyer's annual community seminar is back for its fourth year, this time examining the concept of justice through a study of Harvard University Anne T. and Robert M. Bass Professor of Government Michael Sandel's bestselling Justice: What's the Right Thing to Do? (see overview below).
The seminar will be held from 7:00 – 8:30 AM in Jesse Hall 410 on the second Thursday of every month, beginning on October 12, when participants will discuss chapters 1 and 2 of Prof. Sandel's book, which cover the theme of "Justice and Utility." The other two Fall 2017 seminar meetings will be held on November 9 and December 14.
For more information about the seminar, contact Justin Dyer (DyerJB@missouri.edu) or Kinder Institute Communications Associate Thomas Kane (KaneTC@missouri.edu).
Seminar Overview
Today we talk a lot about justice. A rug in the Oval Office during Barack Obama's administration had a line from Martin Luther King, Jr. (who was paraphrasing the nineteenth-century preacher Theodore Parker) that the "arc of the moral universe is long, but it bends toward justice." The chief department tasked with enforcing federal law is the Department of Justice. The Institute for Justice is a libertarian public interest law firm that focuses on property rights; International Justice Mission battles slavery and sex trafficking; the American Center for Law and Justice promotes politically and culturally conservative causes; and the Global Justice Center promotes a progressive interpretation and enforcement of international law. Activists rally for social justice, racial justice, environmental justice, sexual justice, and reproductive justice. One student wrote a column in the Harvard Crimson a few years back advocating that universities abandon academic freedom, and instead embrace academic justice. National Geographic's television channel runs several popular series with titles like "Southern Justice," "Kentucky Justice," and "Wild Justice." In the wake of fatal police shootings, protesters often hold signs or wear shirts that demand justice for the victim. Clearly we still care about justice, but there is little agreement about what it is exactly. In our breakfast seminar this year, we will consider a big conceptual question: what is justice? Michael Sandel's bestselling book Justice will be our point of entry to this long running conversation in the history of political philosophy.