"John Locke in America: Past to Present," 10/20 Colloquium with University of Montana's Claire Rydell Arcenas
Delivering, somewhat surprisingly, the first Colloquium Series presentation on John Locke, University of Montana Associate Professor of History Claire Rydell Arcenas will draw on her 2022 University of Chicago Press monograph, America's Philosopher, to explore both the indelible mark Locke left on intellectual life in the early U.S. and the difficulties we face in the present day grappling with his historical influence. The talk will take place on October 20 at 3:30pm in Jesse Hall 410.
Abstract
For more than three centuries, John Locke has played a central role in American thought, culture, and politics. Although he never set foot in what would later become the United States, the seventeenth-century English philosopher has exerted an unparalleled influence on American intellectual life. In America's Philosopher, Claire Rydell Arcenas uncovers the rich—and often surprising—story of Locke's transatlantic influence from the eighteenth century until today. Her talk at the Kinder Institute will explore the nature of Locke's authority for eighteenth- and early-nineteenth-century Americans and discuss why this historical Locke can be so difficult for twenty-first-century Americans to understand.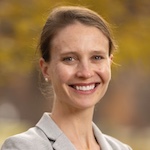 Claire Rydell Arcenas is an Associate Professor of History at the University of Montana. She holds a Ph.D. from Stanford University and a B.A. from the University of Wisconsin-Madison. Her first book, America's Philosopher: John Locke in American Intellectual Life, was published by the University of Chicago Press in 2022.