"Naval Exploration and U.S. National Maturity, 1776-1860," 10/6 Colloquium with Drury University's Michael Verney
To kick off October Colloquium Series programming, Drury University Assistant Professor of History Michael Verney will traverse the globe, examining how U.S. Naval exploring expeditions were dispatched throughout the first half of the 19th century in the name of establishing the nation as a cultural equal and imperial rival to the great powers of Europe. The talk will be held on October 6 at 3:30pm in Jesse Hall 410, and anyone interested in attending virtually can do so via YouTube (link here) or Facebook (link here, login req'd).
Abstract
Between 1838 and 1860, the U.S. Navy dispatched seventeen exploring expeditions across the globe. These voyages were diverse; they emerged from various imperial impulses, and they ranged from the Antarctic to the Arctic, from Ottoman Palestine to Japan, and from South American rivers to the North Pacific. What they shared, however, was the effort to prove that the United States was the cultural equal of the Great Powers of Europe. Early supporters of naval exploration like David Porter, Jeremiah Reynolds, and John Quincy Adams had long admired European explorers like Captain James Cook and the Russian Admiral Johann von Krusenstern. They believed that embarking the U.S. Navy on similar discovery missions would help the United States attain civilizational maturity by European standards. Their proposals for exploring expeditions in the 1810s and 1820s leaned heavily on appeals to national pride. While their schemes to dispatch a naval exploring expedition to the Pacific failed in 1829, later strategists would succeed by selling nationalism alongside concrete imperial advantages for key constituencies in the white body politic in the Early U.S. Republic. The result was a global empire of science, commerce, faith, and white supremacy by 1860.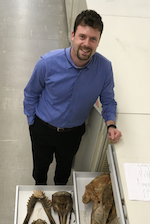 Michael Verney earned his B.A. from University of Massachusetts and his M.A. and Ph.D. in History from the University of New Hampshire, and he currently serves as an Assistant Professor in Drury University's Department of History, Philosophy and Religion. A historian of the global U.S. in pre-Civil War America, with a focus on maritime history, his first book, A Great and Rising Nation: Naval Exploration and Global Empire in the Early U.S. Republic, was published by University of Chicago Press in July 2022. His research has appeared in Journal of the Early Republic and Diplomatic History, and his current book project is a joint analysis of Commodore Matthew Perry's Japan Expedition and the North Pacific Exploring Expedition of 1853-1855.