"The Rise and Fall of the Judeo-Christian Consensus in American Politics," 9/22 Colloquium with Ave Maria University's James M. Patterson
Ave Maria University Associate Professor of Politics James M. Patterson's September 22 colloquium will unpack the history of the Judeo-Christian consensus in American politics from its 20th-century origins through its collapse at the end of the 2000s, zeroing in on how three very different members of the clergy—Fulton J. Sheen, Dr. Martin Luther King Jr., and Jerry Falwell Sr.—found in the consensus a common ground for advancing their various policy positions. The talk will take place at 3:30pm in Jesse Hall 410, and anyone interested in attending virtually can do so via YouTube (link here) or Facebook (link here, login info req'd).
Abstract
Until the early twentieth century, American Catholics and Jews struggled to gain public acceptance from the predominant Protestant culture. After their split from "Fundamentalists," Liberal Protestants sought common cause Catholics and Jews, thus ushering in a new religious accord called the "Judeo-Christian consensus." The Judeo-Christian consensus was not fixed but subject to interpretation by religious leaders seeking to use it as a basis for their own policy positions. Drawing from the work of James W. Ceaser and Rogers Smith, I will show how three very different clergy—Fulton J. Sheen, Martin Luther King Jr., and Jerry Falwell Sr.—used the Judeo-Christian consensus as a common ground for their policy positions and conclude with some discussion of why such a consensus fell apart by the end of the 2000s.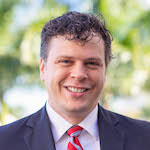 James M. Patterson received in 2002 his B.A. in Political Science and Media Studies at the University of Houston and in 2012 his Ph.D. in American Politics at the University of Virginia, where he studied under James W. Ceaser. He is currently Associate Professor and Chair of the Politics Department at the Ave Maria University. He is also a fellow at the Center for Religion, Culture, and Democracy as well as at the Institute of Human Ecology at the Catholic University of America. He is president of the Ciceronian Society and a Contributing Editor to Law & Liberty. His areas of research are religion, race, and American political development. He published his first book, Religion in the Public Square: Sheen, King, Falwell, on the University of Pennsylvania Press in 2019 and has published scholarly work in Journal of Church and State, American Political Thought, Perspectives on Political Science, and Pietas. He has published popular works at Law & Liberty, First Things, National Affairs, National Review, Providence, and Public Discourse. He has presented research at numerous national and regional conferences, as well as at Princeton University, James Madison University, and George Washington University. He has course and campus development grants from the Acton Institute and the Jack Miller Center. He has held teaching and research positions at Duke University, Hampden-Sydney College, Princeton University, and Gettysburg College. He lives in Ave Maria, FL, with his wife Julia and four children.