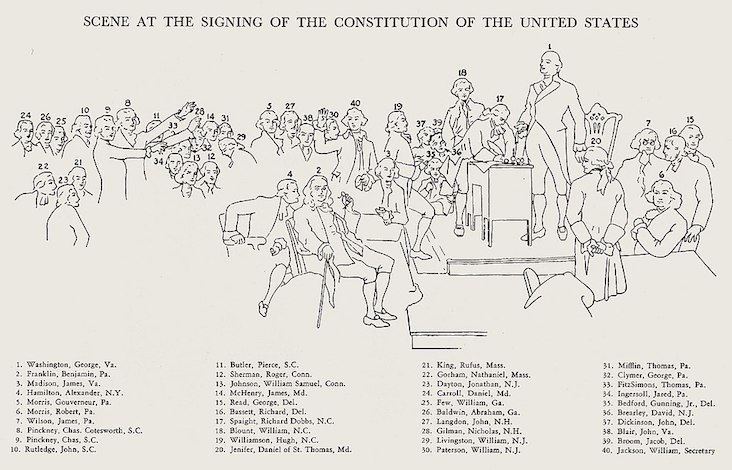 The Success and Failure of James Wilson and Gouverneur Morris
2019 James E. Fleming & Linda C. McClain Constitution Day Lecture
For our second James E. Fleming & Linda C. McClain Constitution Day Lecture, Stanford Assistant Professor of History Jonathan Gienapp will recover the lost contributions of James Wilson and Gouverneur Morris to the drafting of the Constitution in 1787, asking the questions of why their influence so rapidly dissipated and what this tells us about the creation of the Constitution (see abstract below). Free and open to the public, the talk will be held at 3:30pm on Friday, September 20 in Jesse Hall 410.
Abstract
No two delegates to the Constitutional Convention played a more significant role in shaping the United States Constitution than James Wilson and Gouverneur Morris. Yet they are largely forgotten today, dwarfed by more iconic Founders. Meanwhile, the Constitution they worked so hard to create has been lost. This talk excavates Wilson's and Morris's distinct brand of Founding-era constitutionalism, explores how they successfully incorporated much of it during the drafting of the Constitution in the summer of 1787, and examines how it rapidly disappeared within a mere decade. Understanding Wilson's and Morris's constitutionalism and why it was lost sheds fresh light on the original Constitution and its creation.

Jonathan Gienapp received his B.A. from Harvard University and his M.A. and Ph.D. from Johns Hopkins, and he currently serves as an Assistant Professor in Stanford's Department of History, focusing on Revolutionary and early republican America, with particular interest in the period's political culture, constitutionalism, and intellectual history. He is the author of The Second Creation: Fixing the American Constitution in the Founding Era (Harvard University Press), which was a finalist for the Organization of American Historians' 2019 Frederick Jackson Turner Award, and he has published articles in Constitutional Commentary, Journal of the Early Republic, and Fordham Law Review, among other places.