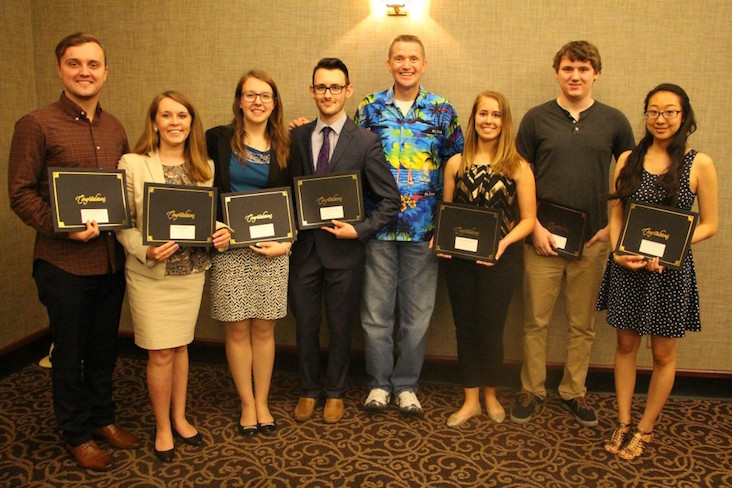 Congratulations to our Kinder Undergraduates
2016 History and Political Science Awards
Everyone at the Kinder Institute would like to extend a hearty congratulations to all of our undergraduate and graduate students who were recognized at the History Department's 2016 Student Recognition Ceremony on Tuesday, April 19, and at the Political Science Department's Annual Awards Reception on Thursday, April 28.
History Department Student Recognition Ceremony
Bishop Davidson, an inaugural member of our Society of Fellows and a 2016 Kinder Scholar, received the Harvey Kantor Memorial Scholarship; 2015-16 Society of Fellows member Jen Perritt was awarded the Harvey A. & Nellie K. Deweerd Memorial Teaching Award; Lauren Herbig, an alumnus of both the Society of Fellows and Kinder Scholars programs, received the Allen & Maude Clarke McReynolds Scholarship; and Caroline Spalding, an inaugural fellow and senior editor for the 2015-16 Journal on Constitutional Democracy, received the Glenn M. McCaslin Memorial Scholarship.
Bishop and Caroline, along with former fellow Conor Fagan, also were recognized for writing honors theses, and Bishop, Jen, and Andrew Wisniewsky, a current fellow and 2016 Kinder Scholar, were honored as recipients of College of Arts and Science Undergraduate Scholarships.
In graduate studies, Zachary Dowdle, who will come on as our Spring 2017 Graduate Fellow in History was named the State Historical Society's 2016-2017 James Goodrich Fellow; current Dissertation Fellow Chris Deutsch was recognized as a recipient of a G. Ellsworth Huggins Fellowship; and Brandon Flint, who will serve as the Institute's Fall 2016 Graduate Fellow in History, was named a Spring 2017 Graduate Technology Fellow.
In addition, Zach and 2016-17 Graduate Fellow Sean Rost were recognized as having won the Lynn and Kristen Morrow Missouri History Student Prize and the Best Student Paper Prize, respectively, at the 58th Annual Missouri Conference on History, held in March 2016 in Columbia.
34th Annual MU Political Science Awards Reception
On the undergraduate side, Society of Fellows and Kinder Scholars alumni Anurag Chandran, Samantha Franks, and Emma Smoczynski all received Political Science Capstone Honors, along with 2016 Kinder Scholars participant Blake Harting. Emma also received one of the Department's two Jeffrey D. Byrne Scholarships.
After receiving the Service Learning Program Award from the MU Honors College earlier in April, 2015-16 Society of Fellows member Alison Bonner was inducted into the Pi Sigma Alpha Political Science Honor Society on Thursday and also was awarded the J.G. Heinberg Scholarship.
Kinder Scholars participants past and future also received scholarships from the Department, with Jacob Otto receiving the Jeffrey D. Byrne Scholarship, Steven Chaffin receiving the J.G. Heinberg Scholarship, and Drew Boursheski receiving the Michael A. Kinney Scholarship.
Our 2015-16 Graduate Dissertation Fellows Kathryn VanderMolen and Rebecca Miller also were recognized on Thursday for having received the G. Ellsworth Huggins Fellowship and the GAPS Outstanding Graduate Student Award, respectively.