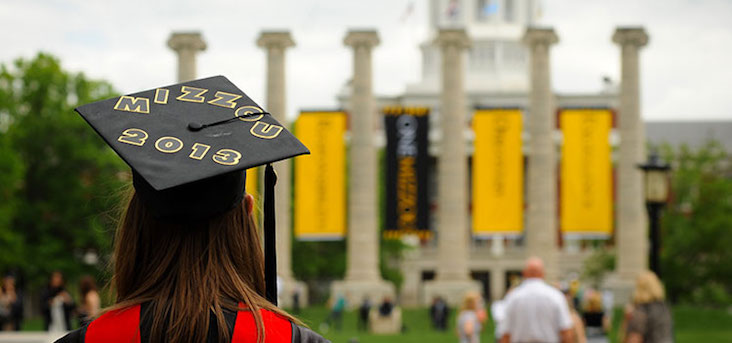 Kinder Institute in the News
May 3, 2017
Among other things, the spring semester nearing its end means that awards season is now in full-swing. While news of this nature will continue to pour in after graduation, here are just a few of the accolades that have been showered on Kinder Institute undergrads, grad students, postdocs, and faculty in recent weeks.
Kinder Fellow and soon-to-be University of Virginia J.D. candidate Hunter Norton's honors capstone project, "New threats to an independent judiciary: High-cost elections and legislative attacks on state courts," was named a 2017 Undergraduate Research Forum Honorable Mention in Social & Behavioral Sciences.
Speaking of soon-to-be J.D. candidates, 2016-17 Society of Fellows member Tom Groeller will be heading west next fall to attend University of Southern California Law, while fellow Fellow Derek Van Becelaere will remain in-state for the next three years, attending Washington University Law School in St. Louis. Joining them on the grad school circuit, current Fellow Jordan Pellerito will be staying around the fourth floor of Jesse Hall for the foreseeable future, studying with Kinder Institute Chair Jay Sexton as an M.A. candidate in History.
A number of Kinder undergrads past, present, and future were honored with scholarships at the 35th annual Political Science Awards Ceremony, held on April 28 at the Broadway Hotel. Past Kinder Scholar Steven Chaffin received the William L. Bradshaw Scholarship; 2016-17 Fellow and 2017 Kinder Scholar Tricia Swartz and 2017-18 Fellow Dylan Cain both received the J.G. Heinberg Scholarship; 2015-16 Fellow Alison Bonner was named the Department's James E. Schaperkotter Scholar; and 2017 Kinder Scholar Cheyenne Garrett received the McCaskill Scholarship for summer study in Washington, D.C.
Not to be outdone by their students, our graduate and postdoctoral fellows have also sent good news our way recently. 2015-17 Political Science Postdoc Nick Drummond accepted a tenure-track assistant professorship in the Government Department at Sweet Briar College, while 2016-17 Poli Sci Grad Fellow Clint Swift will be joining the faculty ranks at Sewanee next year as a Visiting Assistant Professor.
On the faculty side, congratulations to Kinder Institute Director Justin Dyer and former Postdoctoral Fellow Kody Kooper, whose co-authored article "Thomas Jefferson, Nature's God, and the Theological Foundations of Natural-Rights Republicanism" was recently published in Politics and Religion, and to Kinder Institute Faculty Advisory Council member Jay Dow, who was named the 2017-2020 Frederick A. Middlebush Chair in Political Science. Also, a second congrats are due to Justin Dyer for his 2017 MU Faculty-Alumni Award.