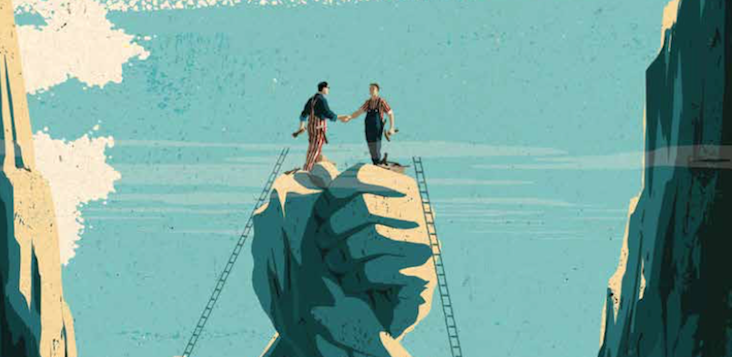 Kinder Institute in the News: Local Edition
Fall 2017 Lectures, Spring 2018 Classes, and More
After a summer of reports back from students in D.C. and details about faculty publications from presses far and wide, we're sticking (mostly) to Columbia for our first fall news round-up, thanks in large part to generous coverage from three of the university's homegrown media outlets.
Thanks to staff writer Eric Ferguson and illustrator Mark Smith for putting together a wonderful Fall 2017 Mizzou Magazine article on the Kinder Institute's commitment to promoting study of American political thought and history, and the support we have received in this endeavor.
In news on programs past and future, Allison Cho of the Maneater weighed in on this fall's fourth annual Constitution Day lecture with TCU's Gene Smith, while Myles Poydras of the Missourian wrote a September 20 feature on "Race and the American Story," a new, vitally important undergraduate seminar co-developed by Associate Professor and Chair of Black Studies Stephanie Shonekan and Kinder Institute Associate Professor of Constitutional Democracy Adam Seagrave that is set to debut in Spring 2018.
Associate Director Jeff Pasley will bring the Kinder Institute's spirit of inquiry west later this month, presenting his paper "Reporting the News in the Partisan Press: The Age of Competitive Advocacy" at The Huntington's October 13-14 conference on The Rise of the Newspaper in Europe & America, 1600-1900.
And in a closing note that we feel embodies our core goal of promoting the use of American political history to address issues we face as a nation today, Faculty Advisory Council member and Professor of Political Science Jay Dow's research on the United States' nineteenth-century adoption of the single-member district was recently cited in a Washington Examiner article about questions that are presently being raised about the constitutionality of re-districting and its effect on the polarization of the contemporary political landscape.