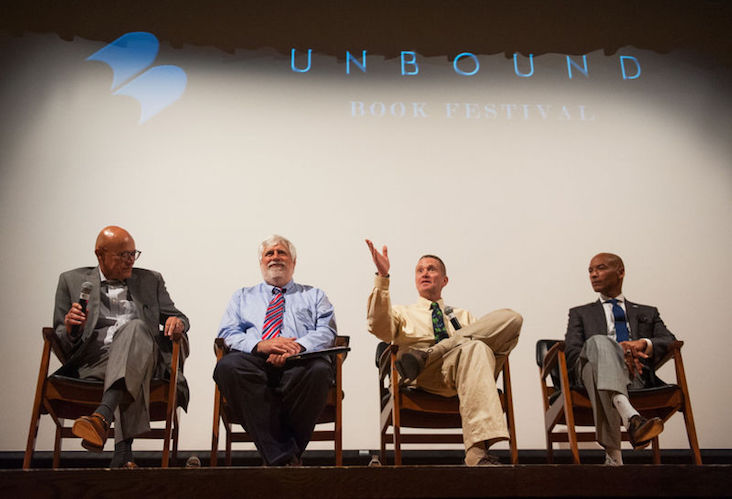 Lloyd Gaines and the Fight to End Segregation
Unbound Book Festival Panel Discussion
As part of Columbia's inaugural Unbound Book Festival, Professors Bill Horner and James Endersby, along with UM System President Mike Middleton and MU Interim Chancellor for Inclusion, Diversity, and Equity Chuck Henson, led a panel discussion about Lloyd Gaines and the Fight to End Segregation, the first title in the Kinder Institute's Studies in Constitutional Democracy book series with University of Missouri Press. The book, which is co-authored by Profs. Horner and Endersby, is the first manuscript devoted to studying Missouri ex rel. Gaines v. Canada (1938), a landmark Supreme Court case in civil rights leaders' quest to end segregated public education in the United States. The discussion, covered here by the Columbia Tribune, focused both on the book's examination of the Gaines case as well as on the subject's relevance to the current state of race relations not only at MU and in the state of Missouri but on campuses and in cities throughout the nation. More information about this and other Studies in Constitutional Democracy titles, including purchasing details, is available on University of Missouri Press website.
About the Authors
James W. Endersby is an Associate Professor of Political Science at the University of Missouri.  He received a Ph.D. and an M.A. in Government from the University of Texas at Austin and a B.S. in Mathematics from Central State University (now the University of Central Oklahoma).  His work has appeared in such publications as the Journal of Politics, Electoral Studies, Political Communication, and Social Science Quarterly, and he is a former fellow of the Shorenstein Center on Press, Politics, and Public Policy, at Harvard University's Kennedy School of Government.  Prof. Endersby currently serves as the Director of the Canadian Studies Center at the University of Missouri.  He has received a number of awards, including an Outstanding Graduate Faculty Award at the University of Missouri and Canada's Governor General's Medallion.
William T. Horner is a Teaching Professor of Political Science at the University of Missouri and serves as the department's Director of Undergraduate Studies.  He received his B.S. in Radio, Television, and Film from Northwestern University, his M.A. in Political Science from Arizona State University, and his Ph.D. in Political Science from the University of Texas at Austin. Prof. Horner has received numerous awards for his teaching while at MU, including the College of Arts and Science's Purple Chalk Award for Excellence in Undergraduate Teaching (2008 and 2009); the Chancellor's Excellence Award for Lifetime Achievement in Advising for his work with the Pi Sigma Alpha political science honors organization (2010) the University's excellence in Education Award for teaching outside the classroom (2012); the Campus Writing Center's Writing Intensive Excellence Award (2013); and the William T. Kemper Fellowship for Excellence in Teaching (2013). He is the author of two books, Showdown in the Show-Me State: The Long Fight Over Conceal and Carry in Missouri (University of Missouri Press, 2005) and Ohio's Kingmaker: Mark Hanna, Man and Myth (Ohio University Press, 2010).