A Guide to the Missouri Constitution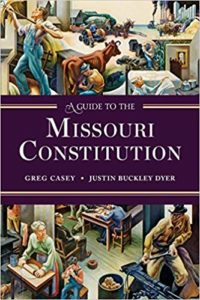 Through a combination of expert historical and contextual commentary and a concise apparatus that deploys diagrams and tables to summarize key concepts, Dyer and Casey have crafted the most efficient and engaging text for understanding the structure of Missouri's government, the provisions and politics of its lengthy constitution, and the relevance that this document has to contentious issues in the state today.
---
Published:
W.W. Norton & Co., February 2017
Author:
Justin Dyer is professor of political science and director of the Kinder Institute on Constitutional Democracy. He completed his M.A. and Ph.D. in Government at the University of Texas at Austin. He is co-author, with Greg Casey, of A Guide to the Missouri Constitution (2017), and with Micah Watson, of C.S. Lewis on Politics and the Natural Law (2016), and author of Slavery, Abortion, and the Politics of Constitutional Meaning (2013) and Natural Law and the Antislavery Constitutional Tradition (2012).