American Constitutional Law, Volumes 1 & 2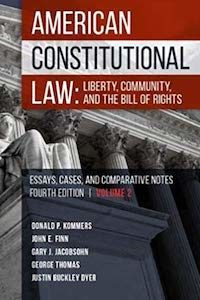 American Constitutional Law, Volume 1: Government Powers and Democracy and American Constitutional Law, Volume 2: Liberty, Community, and the Bill of Rights are unique casebooks that encourage citizens and students of the Constitution to think critically about the fundamental principles and policies of the American constitutional order. In addition to their distinguished authorship, the books have two prominent features that set them apart from other books in the field: an emphasis on the social, political, and moral theory that provides meaning to constitutional law and interpretation, and a comparative perspective that situates the American experience within a world context that serves as in invaluable prism through which to illuminate the special features of our own constitutional order. While the focus is entirely on American constitutional law, the books ask students to consider what, if anything, is unique in American constitutional life and what we share with other constitutional democracies. Each chapter is preceded by an introductory essay that highlights these major themes and also situates the cases in their proper historical and political contexts. These new editions offer updated and expanded treatment of a number of important and timely topics that have been addressed by the Supreme Court in recent years.
---
Published:
West Academic Publishing, August 2018
Author:
Justin Dyer is professor of political science and director of the Kinder Institute on Constitutional Democracy. He completed his M.A. and Ph.D. in Government at the University of Texas at Austin. He is co-author, with Greg Casey, of A Guide to the Missouri Constitution (2017), and with Micah Watson, of C.S. Lewis on Politics and the Natural Law (2016), and author of Slavery, Abortion, and the Politics of Constitutional Meaning (2013) and Natural Law and the Antislavery Constitutional Tradition (2012).