The Rise of the Representative: Lawmakers and Constituents in Colonial America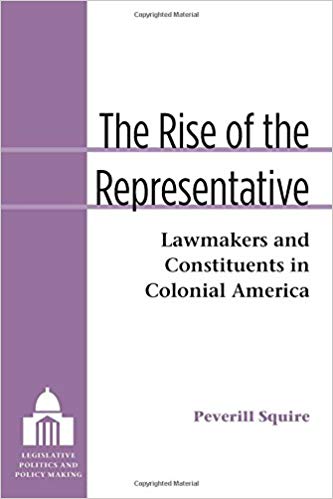 Representation is integral to the study of legislatures, yet virtually no attention has been given to how representative assemblies developed and what that process might tell us about how the relationship between the representative and the represented evolved. The Rise of the Representative corrects that omission by tracing the development of representative assemblies in colonial America and revealing they were a practical response to governing problems, rather than an imported model or an attempt to translate abstract philosophy into a concrete reality. Peverill Squire shows there were initially competing notions of representation, but over time, the pull of the political system moved lawmakers toward behaving as delegates, even in places where they were originally intended to operate as trustees. By looking at the rules governing who could vote and who could serve, how representatives were apportioned within each colony, how candidates and voters behaved in elections, how expectations regarding their relationship evolved, and how lawmakers actually behaved, Squire demonstrates that the American political system that emerged following independence was strongly rooted in colonial-era developments.
"The Rise of the Representative demonstrates that there is considerable untapped information on colonial legislatures, there is a lot to learn from this information, and taking the time to probe this era will greatly enhance our understanding of the type of legislative politics that emerged in the Revolutionary and post-Revolutionary period. Well-developed and well-written, it will become an instant classic." —Lawrence C. Dodd, University of Florida
". . . a unique and well-researched effort to chart out vitally important but largely unexamined terrain in the study of American legislatures. I suspect that virtually every scholar of American politics would benefit from reading this book, and would have to revise some of their understanding of the origins of American politics." —Jeffery Jenkins, University of Virginia
---
Published:
University of Michigan Press, July 2017
Author:
Peverill Squire is Professor of Political Science and holds the Hicks and Martha Griffiths Chair in American Political Institutions. He has also authored The Evolution of American Legislatures: Colonies, Territories and States, 1619-2009 (2012); co-authored State Legislatures Today: Politics under the Domes (second edition, 2015); Why States Matter (2013); 101 Chambers: Congress, State Legislatures, and the Future of Legislative Studies (2005); and Who Runs for the Legislature? (2001); and co-edited Legislatures: Comparative Perspectives on Representative Assemblies (2002).