Scholarship
Academic Workshops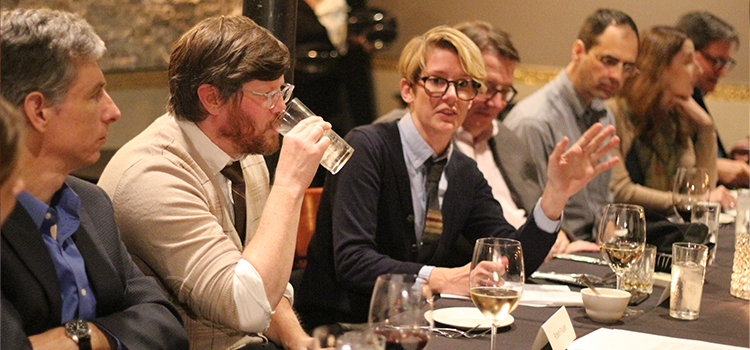 One of the Kinder Institute's primary goals is to create a vibrant intellectual community on the MU campus dedicated to producing and discussing innovative scholarship on the complicated history of constitutional democracy in the U.S. and abroad. To advance this goal, we have created a number of opportunities, in addition to our regular series of colloquia, for scholars on campus, in the region, and around the globe to share current research with one another.
Shawnee Trail Regional Conference on American Politics & Constitutionalism
In the early nineteenth century, the Shawnee Trail conveyed cattle from Texas pasturelands to Missouri railheads and thence to the nation. Over the past six years, the Shawnee Trail Conference has provided a similar venue for the transmission of ideas among and between scholars of American political and constitutional development and history, and American political thought. Though it has grown beyond its original regional framework to become a national endeavor, the conference, which typically takes the form of a daylong series of thematically organized panels, has remained true to its roots as a space in which faculty and graduate students share works-in-progress with colleagues in the field. Details about the 2022 Shawnee Trail Conference will be made available on the Kinder Institute website in December/January.
Contacts
Dr. Curt Nichols, curt_nichols@baylor.edu, Associate Professor of Political Science, Baylor University
Missouri Regional Seminar on Early American History
Launched with the Kinder Institute in 2014, the Missouri Regional Seminar on Early American History (MRSEAH) provides scholars working on topics related to American history before 1900 with an opportunity to share research-in-progress with colleagues from around the Midwest in a constructive and convivial workshop setting. We welcome work on all aspects of American history, broadly defined Missouri-style to extend geographically throughout the Americas and Atlantic World, and chronologically from pre-colonial times forward through the 19th century.
Drawing its core members from faculty, graduate students, and public historians of the greater St. Louis area and Missouri River Valley, the MRSEAH meets twice per academic semester, once each in St. Louis and Columbia. The MRSEAH is organized in a workshop format, with presenters pre-circulating an article- or book chapter-in-progress to participants and an interlocutor commenting on and leading discussion of the manuscript at the gathering proper. Parties interested in participating in the MRSEAH should contact Prof. Jeff Pasley, Kinder Institute Chair of Early American History and MRSEAH co-convener, at PasleyJ@missouri.edu, or visit the MRSEAH-dedicated page on the Kinder Institute website for more information on future calls-for-submissions.
International Scholarly Conferences
In addition to the regularly-scheduled events above, the Kinder Institute likewise hosts international scholarly conferences whenever the opportunity arises.
In May 2018, over four dozen scholars of transnational history gathered in Columbia to workshop all chapters of the second, 19th-century volume of Cambridge University Press' ambitious, five-volume Cambridge History of America and the World, which is co-edited by Kinder Institute Director Jay Sexton and his longtime collaborator, University of Illinois Professor of History Kristin Hoganson. A schedule of speakers and chapters can be found here.
In February 2019, a like number of scholars, from as close as Tate Hall and as far away as Gothenburg, descended on the MU campus for the first ever international conference devoted to examining the crisis over Missouri statehood (on the dawn of the state's bicentennial). The best papers delivered at the conference were published in one of three collected volumes of essays as part of the Institute's Studies in Constitutional Democracy book series with University of Missouri Press. A brochure of all presented papers can be found here.
In Spring 2022, after multiple delays, the annual meeting of the Association of British American Nineteenth-Century Historians was held in Columbia.