Scholarship
Missouri Summer Teachers Academy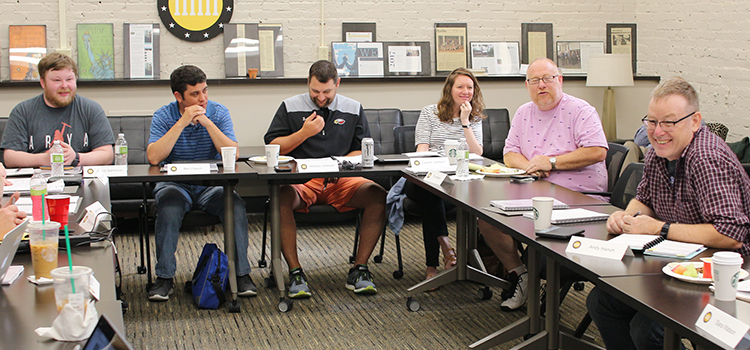 In Summer 2016, in partnership with the Missouri Humanities Council, the Kinder Institute launched the Missouri Summer Teachers Academy, a residential conference that provides high school social studies teachers from around the state with an opportunity to gain new content knowledge in their field by studying alongside Mizzou faculty.
2020 MISSOURI SUMMER TEACHERS ACADEMY
The Modern Presidency
With the dawn of the new year bringing with it a heated impeachment trial in the halls of the Capitol, we thought it only fitting for the 2020 Missouri Summer Teachers Academy (MSTA) to examine the theme of "The Modern Presidency." Current events will be covered, but they will not be the lone, or even the primary, focus of this year's gathering. We will explore such topics as the founding generation's intentions for the nation's executive branch, how the office has evolved over time and the events on which this evolution has been predicated, instances when exertions of presidential power have been called into question, and the interaction between the Oval Office and other branches of government.
This year's MSTA, our fifth, will be held June 16-18, 2020 in Columbia, Missouri. Thanks to the generosity of our partners in this endeavor, the Missouri Humanities Council, teachers' participation will be fully subsidized, with lodging, meals, and supplies covered for the duration of the Academy and a small stipend provided to offset any other costs associated with attending.
See the "How to Attend" tab for instructions on nominating a teacher to participate (self-nominations are absolutely accepted), keeping in mind that the deadline to apply is April 1, 2020, and that applications will be considered on a rolling basis until we reach capacity for participation. All nominations can be sent to MSTA Coordinator Thomas Kane at KaneTC@missouri.edu.
The Academy typically takes place in mid-June, kicking off with an opening night reception and then giving way to two full days of seminars, lunch discussions, and keynote lectures. Teachers are housed in the historic Tiger Hotel in downtown Columbia, and all academic events take place in the Kinder Institute's seminar room in Jesse Hall, right in the heart of Mizzou's campus. Seminar sessions, which make up a bulk of the programming, bring a mix of lecture and Q&A, and in the past, they have been led by MU faculty from across multiple departments on campus, including History, Political Science, Education, Law, Black Studies, Russian & German Studies, and English.
In terms of subject matter, past iterations the Teachers Academy have explored a wide range of themes, from the conceptual to the highly subject-specific. For example, in year one, teachers examined the theme of "Majority Rule & Minority Rights," in 2018, they looked at "Missouri History," and in 2019, they focused on the theory and global history of revolutions.
All high school social studies teachers in the state of Missouri are eligible to attend. Self-nominations are acceptable, as are outside nominations by a principal, department head, or district coordinator. In all cases, nominations should include the following information: name, school/school district, and classes and grades taught. Self-nominations should also include a brief statement on how participating in the Academy will benefit the applicant's work in the classroom, while outside nominations should include a brief statement on how the nominee has distinguished her/himself as a social studies educator.
Nominations for the 2020 Teachers Academy will open on January 1 and should be sent via email to MSTA Coordinator Thomas Kane, KaneTC@missouri.edu. Nominations will close on April 1 and will be considered on a rolling basis.