Scholarship
Missouri Summer Teachers Academy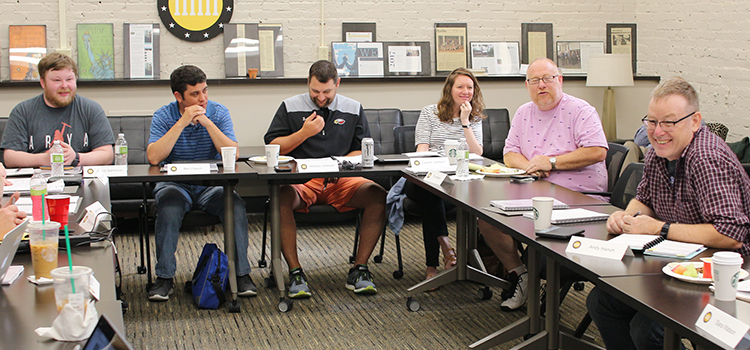 In Summer 2016, in partnership with the Missouri Humanities Council, the Kinder Institute launched the Missouri Summer Teachers Academy, a residential conference that provides high school social studies teachers from around the state with an opportunity to gain new content knowledge in their field by studying alongside Mizzou faculty.
The conference is organized around a new theme in political history each year, and thanks to the generosity of the Humanities Council, teachers' participation in it is fully subsidized.
The Academy typically takes place in mid-June, kicking off with an opening night reception and then giving way to two full days of seminars, lunch discussions, and keynote lectures. Teachers are housed in the historic Tiger Hotel in downtown Columbia, and all academic events take place in the Kinder Institute's seminar room in Jesse Hall, right in the heart of Mizzou's campus. In addition to having housing and meals paid for, participating teachers also receive a small stipend to help offset costs related to travel. 
In terms of subject matter, past iterations the Teachers Academy have explored a wide range of themes, from the conceptual to the highly subject-specific. For example, in year one, teachers examined the theme of "Majority Rule & Minority Rights," in 2018, they looked at "Missouri History," and last year, they focused on the global history, as well as the theory, of "Revolutions."
All high school social studies teachers in the state of Missouri are eligible to attend. Self-nominations are acceptable, as are outside nominations by a principal, department head, or district coordinator. In all cases, nominations should include the following information: name, school/school district, and classes and grades taught. Self-nominations should include a brief statement on how participating in the Academy will benefit the applicant's work in the classroom. Outside nominations should include a brief statement on how the nominee has distinguished her/himself as a social studies educator.
Nominations for the 2020 Teachers Academy will open on January 1 and should be sent via email to MSTA Coordinator Thomas Kane, KaneTC@missouri.edu. Nominations will close on April 1 and will be considered on a rolling basis.