Contesting the Constitution: Congress Debates the Missouri Crisis, 1819-1821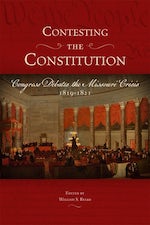 The admission of Missouri to the Union quickly became a constitutional crisis of the first order, inciting an intensive reexamination of the U.S. Constitution by the U.S. Congress. The heart of the question in need of resolution was whether that body possessed the authority to place conditions on a territory—in this instance Missouri—regarding restrictions on slavery before its admittance to the Union. The larger question with which the legislators grappled was the limits of the Constitution's provisions granting Congress the authority to affect the institution of slavery both where it already existed and where it could expand. The issue—what would come to be known as the Missouri Crisis—severely tested the still young republic and, some four decades later, would all but rend it asunder. This timely collection of original essays thoughtfully engages the intersections of history and constitutional law, and is certain to find eager readers among historians, legal scholars, political scientists, as well as many who call Missouri home.
"Editor William Belko and a talented group of historians link the debates over clauses and intent in the Constitution of 1787 with the heated sectional controversy over federal prerogatives regarding the admission of new states between 1819 and 1821. Their exploration of subjects, among others, the powers of Congress concerning the territories, the value of compromise, the definition of migration and immigration, and the nature of republican government are important and enlightening. The restriction on slavery, 'the firebell in the night,' of course, looms large in the Tallmadge Amendment and beyond. Clearly written and exhaustively researched, this volume is a must-read for both academics and those generally interested in the bond between the Constitution and politics in the early republic."—John M. Belohlavek, University of South Florida, author of Broken Glass: Caleb Cushing and the Shattering of the Union
"William S. Belko's worthy collection of timely and poignant essays dissects how various Constitutional clauses created the debates over slavery, westward expansion, and Missouri's admission into the Union and ultimately paved the path toward Civil War. Antebellum slavery cannot be understood without articulating how the Missouri question defined it!"—Gene Allen Smith, Texas Christian University, author of In Harm's Way: A History of the American Military Experience
---
Published:
University of Missouri Press, May 2021
Editors:
William S. Belko is the Executive Director of the Missouri Humanities Council and author of several books including, Philip Pendleton Barbour in Jacksonian America: An Old Republican in King Andrew's Court and The Invincible Duff Green: Whig of the West (also published by the University of Missouri Press). He lives in the St. Louis area.