Undergraduate
B.A. in Constitutional Democracy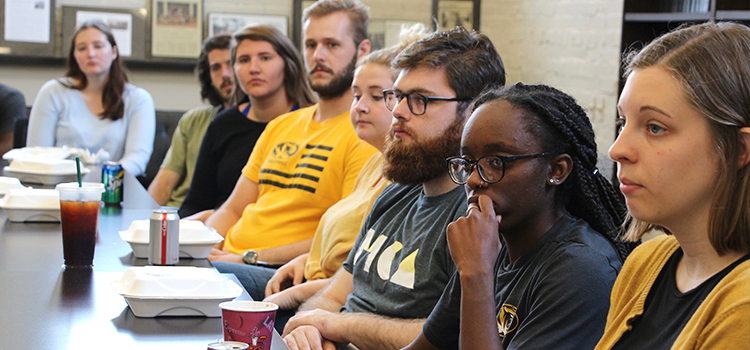 The B.A. in Constitutional Democracy not only engages undergrads in the College of Arts & Science in a close, interdisciplinary examination of the ideas and events that are central to understanding the founding of the United States but also provides students with an opportunity to trace the reverberation of these ideas and events over time and around the globe. How and why have the philosophical ambitions and historical practice of constitutional democracy changed over time in the U.S.? What are the institutions and who are the figures that have been most responsible for driving this change? How, over the course of its history, has U.S. constitutional democracy influenced—and been influenced by—foreign nations? These are just some of the many questions that students can explore through the major, which consists of required common curriculum courses and concentrated upper-level electives in Constitutional Democracy, History, Black Studies, Philosophy, Public Affairs, Economics, and more.
There are four primary components of the Constitutional Democracy B.A., which requires 36 total hours of coursework in the College of Art & Science at a C grade or higher.
I. 15 hours of common curriculum coursework on the origins of the United States
II. 15 hours of upper-level coursework in one of five concentration areas: U.S. & the World, Politics & Policy, Law & Institutions, and Social & Political Thought
III. 3 hours of experiential coursework
IV. 3 hours of thesis or capstone coursework
A current draft of the degree worksheet can be accessed using the link below.
In order to file a graduation plan for a Constitutional Democracy major with the College of Arts & Science, students must have completed at least four out of five common curriculum courses, and a minimum of 15 credit hours of major coursework total, by the end of their fourth semester.
Adapted from the Kinder Institute's Constitutionalism & Democracy course series, the major's common curriculum, which consists of the five classes below, allows students to explore the origins of the United States, from the philosophers that the founding generation were reading when they were contemplating the design and ambitions of the new nation's government to the first rocky decades of the American republic.
CNST DEM 2450: Intellectual World of the American Founders (also POL SC 2450)
CNST DEM 2100: Revolutionary Transformation of Early America (also HIST 2100)
CNST DEM 2455: Constitutional Debates (also POL SC 2455)
CNST DEM 2120: Young Republic (also HIST 2120)
CNST DEM 4400: History of American Law (also HIST 4400)
Descriptions of the five common curriculum courses, along with all concentration-area courses, can be found under the "Course Catalogue" tab.
Experiential Learning Requirement
We want to be broad and creative in our thinking about experiential learning, and students in the Constitutional Democracy major can fulfill this requirement in a number of ways, not only through internships through which they can pursue professional interests, but also through study abroad, research assistantships, directed research programs, and more.
The following courses can be applied toward the Kinder Institute's experiential requirement, though students can petition the B.A.'s director, Prof. Justin Dyer (DyerJB@missouri.edu), to have other courses count.
CNST DEM 2004: Constitutional Litigation
CNST DEM 4075: Global History at Oxford
CNST DEM 4840: Developing Dynamics of Democracy
CNST DEM 4900: Beltway History & Politics
CNST DEM 4975: Journal on Constitutional Democracy
HIST 4940: Internship in History
POL SC 4940: Internship in Political Science
SRV LRN 3028: Civic Leaders Internship
Note that students cannot use a single course to fulfill both a concentration area and experiential learning requirement and that all non-CNST DEM experiential coursework must be approved by the Constitutional Democracy Academic Advisor prior to students' receiving major credit for it.
Thesis and Capstone Coursework
Students in the major can fulfill the thesis/capstone requirement by applying at the end of their sixth semester on campus to take CNST DEM 4996, the Kinder Institute's yearlong thesis writing workshop, through which students will work independently with a thesis advisor to complete a scholarly work of at least 50 pages and also attend weekly seminars on the writing process or peer review workshops.
Space in the two CNST DEM 4996 sections is limited to 20. To apply, send a writing sample of 15-20 pages, two faculty letters of recommendation, and a thesis prospectus to Kinder Institute Academic Advisor Thomas Kane, KaneTC@missouri.edu, by April 1 of your sixth semester on campus.
Students can also fulfill the thesis requirement by taking an additional 4000-/7000-level seminar in their concentration area and fulfilling the graduate writing requirement for the course.
A full catalog of the A&S courses that can be applied to the B.A. in Constitutional Democracy will be made available prior to the degree's official launch in Fall 2020.
M.A. in Atlantic History & Politics
Students who complete all concentration area requirements prior to the end of their undergraduate career at Mizzou can begin taking coursework for the Kinder Institute's M.A. in Atlantic History & Politics, a one-year, interdisciplinary Master's program in the College of Arts & Science that begins with in July, with a month spent studying at University of Oxford, and continues in Columbia during the fall and spring semesters.
Learn More