Undergraduate
Society of Fellows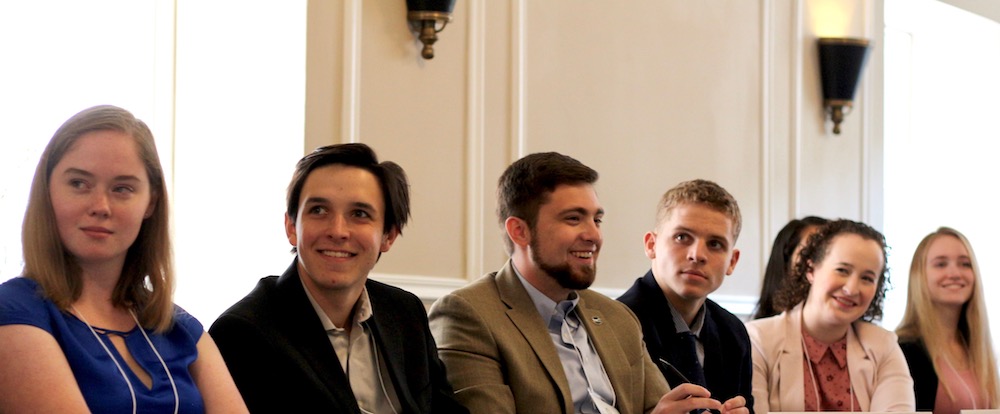 The Society of Fellows is a competitive academic fellowship program exclusive to University of Missouri undergraduates that provides participants with an opportunity to build an intellectual community devoted to collective exploration of, and to passionate, civil discussion about, the intellectual origins and early history of constitutional democracy in the U.S., as well as important, and often overlooked, connections between both the nation's past and present and the United States and the wider world. The three cornerstones of the Society of Fellows program are detailed below.
Applications for the Kinder Institute's 2021-22 Society of Fellows Program are now open, with a deadline of March 26, 2021, at 11:59pm. Details can be found in the call-for-applications below, and all rising sophomores, juniors, and seniors who will be in-residence in Columbia for the duration of the 2021-22 academic year are eligible to apply.
Program Director Dr. Thomas Kane will hold an information session about the Fellows program on Wednesday, March 3, from 5-6pm. Students who are interested in attending that session can RSVP to Dr. Kane at, KaneTC@missouri.edu.
Questions and completed applications can also be submitted to Dr. Kane at the email address above.
Summer Residential Conference
The Society of Fellows kicks off each year with a four-day, three-night residential summer conference held at the Tiger Hotel in downtown Columbia. The conference provides each new class of fellows with an introduction to the program's interdisciplinary approach to studying the American constitutional and democratic traditions through a series of seminars, discussions, and dinners with Kinder Institute faculty. Past seminars have examined topics ranging from the influence of Republican Rome on democratic thought in America to the long and entangled history of money and politics. Participation in the summer residential conference is a mandatory component of membership in the Society of Fellows.
Fellows continue their study of the theory, history, and practice of American constitutional democracy throughout the academic year through quarterly dinner lectures and discussions with University of Missouri faculty and invited guests of the Kinder Institute. Attendance at each quarterly dinner meeting is also a mandatory component of Society of Fellows participation. In past years, these quarterly meetings have included: lunches with Pulitzer Prize-winning authors David McCullough and Annette Gordon-Reed; dinner lectures on state supreme court processes with former Missouri Chief Justice Mary Rhodes Russell and the philosophical concept of dignity in the history of black political thought with Villanova Associate Professor of Theology Vincent Lloyd; and screenings of the critically acclaimed documentaries RBG and Democrats.
In addition to these quarterly meetings, the Kinder Institute often holds exclusive events with visiting scholars and professionals for Society of Fellows members.
Journal on Constitutional Democracy
Members of each class of the Society of Fellows are invited to take part in the creation of the Kinder Institute's undergrad-run Journal on Constitutional Democracy. Founded by Anurag Chandran, a member of the Institute's inaugural class of undergraduate fellows, the Journal consists of primary source-driven, scholarly articles that explore a new theme chosen each year by Journal staff members that is relevant to the Kinder Institute's scholarly focus on the underlying theory, historical evolution, and contemporary practice of American constitutional democracy. In addition to writing all content, undergraduate staffers are responsible for editing, designing, and marketing each volume of the Journal. Past articles have provided a documentary history of the women's suffrage movement; critiqued the rhetoric of Manifest Destiny and the prudence of Major League Baseball's anti-trust exemption; re-examined FCC case law and the career arc of Supreme Court Justice Sandra Day O'Connor; and offered cross-era comparisons of presidential farewell addresses and American protest literature.
More details about the first four volumes of the Journal can be found here.
Students can receive up to three (3) course credits (two in the fall semester and an additional one in the spring) for their participation in the creation of the Journal by enrolling in the yearlong HIST/POL SC: 4975 Journal on Constitutional Democracy course.