Undergraduate
Study at Oxford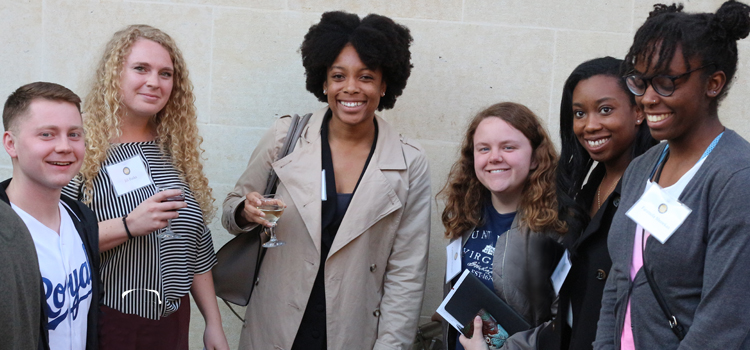 In Spring 2018, the Kinder Institute embarked on a partnership with University of Oxford's Corpus Christi College that provides Mizzou undergraduates with an opportunity to experience the scholastic life, unique pedagogy, and rich traditions of one of the globe's most storied institutions of higher learning. While we are working to ensure that this partnership grows over time, we currently offer the two opportunities described below to students on the MU campus, a weeklong opportunity to study with Oxford professors over spring break and a fully-embedded fellowship program, through which a Mizzou undergrad spends an entire academic year as a student of history at Corpus Christi College.
Applications for the Spring 2024 HIST 4075/4075H "Global History at Oxford" course, which run through MU's Study Abroad Office, are officially open, with a deadline of November 1, and a scholarship deadline of October 23.
Students can find a link to the separate scholarship application when they open the general study abroad application. Contact Caroline Spalding, cspalding@missouri.edu, with any scholarship questions.
Applications for our Oxford Fellowship, which provides students with an opportunity to spend a full year reading history at Corpus Christi College, open every spring with a deadline of early April. Contact Kinder Institute DUGS Thomas Kane, KaneTC@missouri.edu, for complete details about fellowship applications.
The first program of its kind at Mizzou, "Global History at Oxford" is both an intellectually rigorous, on-campus experience for students and an immersive study abroad opportunity. The core component of the program is the "Global History at Oxford" undergraduate seminar (HIST 4075 or 4075H), a four-credit hour, spring semester course that asks students to consider why national history emerged as the default method of studying the past and to examine the new, more complex narrative that is un-earthed by taking a more transnational approach.
Studying the rise of global empires and the development of global history prepares students for the program's second component: a week spent embedded at Corpus Christi College. Over spring break, all students in the class traverse the Atlantic to spend five days attending seminars with distinguished faculty at Oxford and neighboring colleges, soaking in the rich social fabric of the campus and city, and touring the British countryside.
While a week spent studying at Oxford is certainly an invaluable experience, as we found out from the first "Global History" cohort, it also leaves students wanting more. Through the Oxford Fellowship program, 'more' is possible. The very best MU undergraduates will be able to spend an academic year as a fully-integrated, second-year student of history at Corpus Christi College. Oxford Fellows will have access to the full, three-term range of Corpus' tutorial curriculum for history students and will be immersed in the culture and traditions of the College.
Rising juniors and seniors of any major at MU are eligible to apply for the Oxford Fellowship, though priority will be given to applicants with demonstrated aptitude for the study of history. Oxford Fellowship applications open with the beginning of each spring semester with a deadline of early April. Application materials consist of unofficial transcripts, a writing sample of 10-15 pages from a course in the humanities or social sciences, and a letter of recommendation from a full-time faculty member in the humanities or social sciences. Application materials and questions can be sent to Dr. Thomas Kane, KaneTC@missouri.edu.