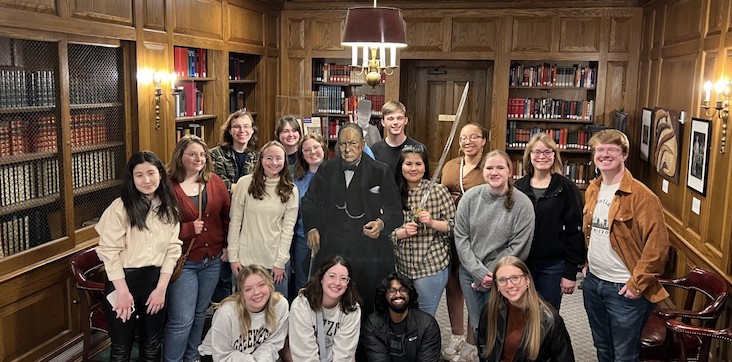 Since the very beginning, the primary goal at the Kinder Institute has been finding innovative and exciting ways for undergraduate students to explore the rich theory and complicated history of constitutional democracy across time and around the globe. This means not only developing programs for students who are already at Mizzou but also attracting new students to Columbia to study alongside our world class faculty and tremendous cohort of undergraduates.
So, if you're a current high school student whose interests lie at the intersection of history, political science, government, law, and more, use the tabs below to find out more about what the Kinder Institute has to offer.
And if you're coming to Columbia and want to chat one-on-one about opportunities here at the Institute with KICD Director of Undergraduate Studies Thomas Kane (KaneTC@missouri.edu), make sure to choose the Kinder Institute as one of your stops when you're signing up for your campus visit with the MU Admissions Office.
Why the Kinder Institute?
Click on the 'Learn More' button to navigate through a series of questions that might help you decide if the Kinder Institute is the right spot for you.
Constitutional Democracy Academy
A summer enrichment program for Missouri high school students (rising juniors and seniors) who are eager to learn more about the United States' constitutional history, the Constitutional Democracy Academy runs two weeklong sessions every July that feature seminars with Kinder Institute faculty, field trips on campus and around Columbia, and, most of all, a chance to meet peers from across the state who share a commitment to civic education. Participants live in campus dorms for the week they're on campus, and the program is all-expenses-paid, save for a reservation fee.
The 2023 Constitutional Democracy Academy will take place on July 10-14 and July 24-28 on the Mizzou campus in Columbia.
Applications for the July 24-28 session of the Constitutional Democracy Academy remain open with a deadline of June 15, 2023. See the call-for-applications below for more information.
Contact Dr. Rudy Hernandez, HernandezRK@missouri.edu, for more information
Kinder Institute Democracy Lab First-Year FIG
A riff on Mizzou's historic FIG program, the Kinder Institute Democracy Lab (KIDL) is a yearlong living-and-learning community for incoming students who want to jump right into coursework on the history and theory of democracy and who want to find peers who share this passion. All Democracy Lab participants take small, discussion-based seminars on the intellectual and revolutionary origins of democracy in the U.S. and abroad during the fall and spring semesters of their first year on campus, and will have the option (space permitting) of living together in the same residence hall so that the conversations that start in the classroom can continue at home. All courses associated with the Democracy Lab can be applied to the Kinder Institute's interdisciplinary B.A. in Constitutional Democracy in Mizzou's College of Arts & Science, but the program itself is open to students of any and all majors, and the classes satisfy an array of degree and general education requirements beyond Constitutional Democracy.
Scholarships are available for Democracy Lab participants, and they will open up in September with an early deadline of December 1 and a regular deadline of January 15. Contact Dr. Thomas Kane, KaneTC@missouri.edu, for any questions related to the KIDL program and the scholarships associated with it.
Undergraduate Life at the Kinder Institute
UNDER CONSTRUCTION: COMING FALL 2023
Why read a website when you can hear what our students have to say about their experience at the Kinder Institute? Click through the 'Learn More' button (coming soon!) for profiles and testimonials from students who have spent their time studying on the fourth floor of Jesse.