The Panic of 1819: The First Great Depression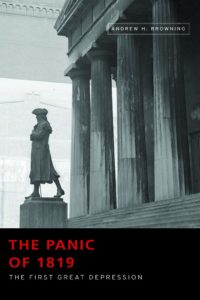 The Panic of 1819 tells the story of the first nationwide economic collapse to strike the United States. Much more than a banking crisis or real estate bubble, the Panic was the culmination of an economic wave that rolled through the United States, forming before the War of 1812, cresting with the land and cotton boom of 1818, and crashing just as the nation confronted the crisis over slavery in Missouri. The Panic introduced Americans to the new phenomenon of boom and bust, changed the country's attitudes towards wealth and poverty, spurred the political movement that became Jacksonian Democracy, and helped create the sectional divide that would lead to the Civil War. Although it stands as one of the turning points of American history, few Americans today have heard of the Panic of 1819, yet we continue to ignore its lessons—and repeat its mistakes.
"This is an excellent book on a neglected episode of American economic and financial history—the Panic of 1819—and also on American political and social history in general during, roughly, the first three decades of the nineteenth century." —Richard Sylla, New York University, author of The American Capital Market, 1846–1914: A Study of the Effects of Public Policy on Economic Management
"The title of Mr. Browning's fine and formidable history only hints at its scope. 'The Panic of 1819' is, in fact, a political, social, and financial history of the U.S., before, during and after America's first great depression." —Wall Street Journal
---
Published: 
University of Missouri Press, April 2019
Author:
Andrew H. Browning was educated at Princeton and the University of Virginia. He has taught history in Washington, D.C., Honolulu, and Portland, Oregon.