Lloyd Gaines and the Fight to End Segregation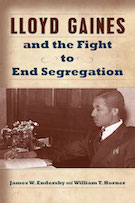 In 1935, Lloyd Gaines' application to the University of Missouri Law School was denied, based solely on the grounds that the state's constitution called for "separate education of the races." Along with the NAACP, Gaines challenged the university's admissions policies in the nation's high court, and Missouri ex rel. Gaines v. Canada (1938) became the first in a long line of Supreme Court cases regarding race, higher education, and equal opportunity, and in many respects paved the way for 1954's Brown v. Board. The case drew national headlines, and the NAACP moved Gaines to Chicago after he received death threats. Before he could attend law school, however, Gaines vanished, never to be seen or heard from again.
This is the first book to focus entirely on the Gaines case and the vital role played by the NAACP and its lawyers—especially Charles Houston, known as "the man who killed Jim Crow"—as they advanced a concerted strategy to produce political change. Horner and Endersby also discuss the African American newspaper journalists and editors who mobilized popular support for the NAACP's work in the courts. In chronicling the pioneering efforts of Gaines, who the New York Times said "might be in the pantheon of civil rights history with the Rev. Dr. Martin Luther King Jr., Thurgood Marshall, and other giants," this book sheds light on an important and too often overlooked first step in the legal fight to end segregated public education in the United States.
"This is a work of great significance to those who seek a mature, straightforward account of the life and times of Lloyd Gaines. A splendid achievement and a wonderful contribution to the history of civil rights in the era after Plessy v. Ferguson and before Brown v. Board of Education."
—Gary M. Lavergne, University of Texas at Austin, author of Before Brown: Heman Marion Sweatt, Thurgood Marshall, and the Long Road to Justice
View Catalog
---
Published:
University of Missouri Press, March 2016