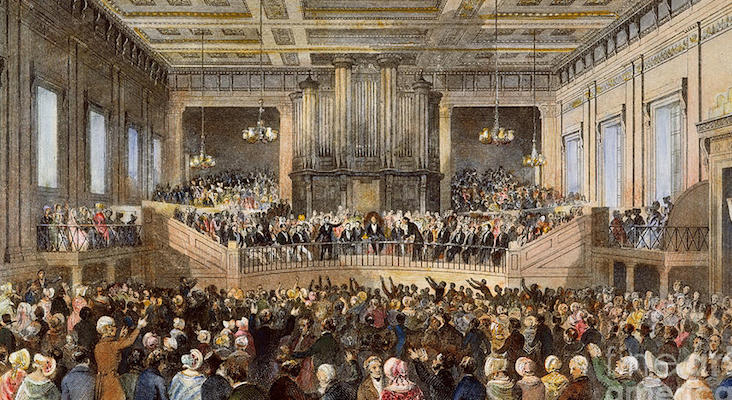 Chance, Control, and Self-Possession in Anti-Slavery Literature
Kinder Institute Fall 2018 Colloquium Series
Kinder Institute Fall 2018 Distinguished Research Fellow Lawrence Goldman will outline his current research project in a September 13 colloquium that draws on the work of Max Weber in tracing the emergence of the American anti-slavery movement back to a recurring theme in the movement's literature: the contradiction between the control free people of the north wielded over their lives and the precariousness of the lives of slaves (see abstract below). The talk will be held at 5:30pm in Jesse Hall 410 and is free and open to the public.
Abstract
This seminar will consider an underlying theme in the literature of the anti-slavery movement: that while the free people of the north were gaining ever more control of their lives in an age notable for the elimination of risk and uncertainty, the lives of slaves were arbitrary, erratic and unpredictable. One reason for the emergence of the anti-slavery movement was the evident contradiction between the ever-greater stability of bourgeois life and the continuing precariousness of the lives of slaves. While recent histories of slavery have invoked Marx, this exploration of anti-slavery will develop the insights of the sociologist Max Weber.

Lawrence Goldman graduated with a double first in History from Cambridge University (Jesus College), and after studying American History at Yale as a Harkness Fellow, did his doctoral work at Cambridge's Trinity College, focusing on the history of social science in the Victorian period. He spent 24 years as a tutorial fellow at University of Oxford (St. Peter's College) and currently is a professor in University of London's School of Advanced Study and Director of UCL's Institute of Historical Research. He served from 2000-2014 as Editor of the Oxford Dictionary of National Biography and has authored books on Victorian Social Science, the history of Workers' Education in Britain, and the life of political thinker and historian R.H. Tawney, among other topics. His scholarly work has appeared in leading journals including the English Historical Review, Historical Journal, and Past & Present, and he joins the Kinder Institute as a Fall 2018 Distinguished Research Fellow.