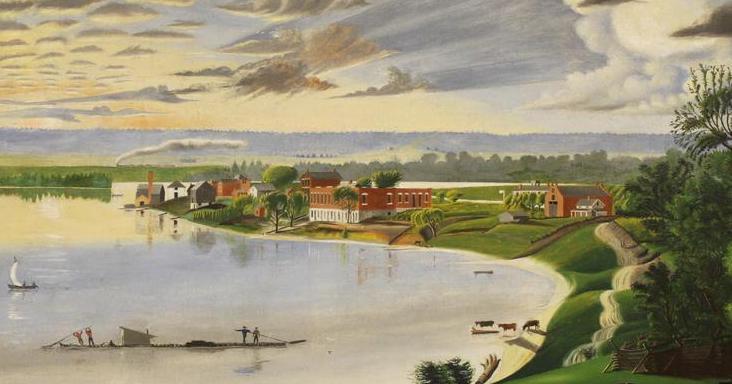 "Mormons vs. Democracy" and "The History of the Erie Canal"
Fall 2018 History Colloquium Series Double-header
A pair of ex-Columbians will make their triumphant return to campus to kick off Homecoming weekend with an October 19 history colloquium twin-bill. First, Sam Houston State University Assistant Professor of History and former Kinder Postdoc Ben Park will present his research on "The Mormons vs. Democracy on the Banks of the Mississippi," followed by Providence College Assistant Professor and MU History Ph.D. Steven Carl Smith's talk entitled, "Politics in the Margins: Elkanah Watson, DeWitt Clinton, and the History of the Erie Canal." (see abstracts for both talks below). Festivities will kick off at 3:30pm in Jesse Hall 410, with a brief reception to follow Prof. Smith's talk.
Park Abstract
After being expelled from the state of Missouri, Joseph Smith and his followers established a new city across the Mississippi River in Illinois. Within five years, they boasted nearly twenty thousand believers in the region and threatened to dominate local politics. To the Mormons, America's democratic experiment had failed, and it was time to experiment with new options; to the non-Mormon neighbors, the Mormons posed a threat to the political system and had to be stopped. This paper details the riveting story and explores what it tells us about religion and politics during the nineteenth century.
Smith Abstract
In this talk, I will discuss the intersection of politics, self-fashioning, and history in the early American republic. In 1828, Elkanah Watson gloated in his diary that DeWitt Clinton, the "Father of the Erie Canal" and a man he considered his most "implacable enemy," had died. Watson was a self-styled renaissance man of great ambition and he was, at various points in his life, an envoy during the American War for Independence, a canal promoter, a merchant, a sheep farmer, an agricultural fair promoter, a writer, a political operative, and early proponent of the railroad. Watson was obsessed with his role (or lack thereof) in the creation of the canal. For years, he fumed privately that Clinton basked in the glory of having built the canal, a project Watson claimed to have conceived years earlier. Ever conscious of his public reputation, Watson was an avid consumer of print, and he clipped and saved articles dealing with the canal and often wrote letters to local newspapers in a vain attempt to remain relevant at a time when history had seemingly passed him by. Watson became equally obsessed with Cadwallader Colden's 1825 report on the canal commissioned by the New York City Common Council. Watson spent months annotating his personal copy, and my paper addresses his often detailed marginal notes. Watson corrected what he perceived to be factual inaccuracies. He insulted his political enemies, especially Clinton and Colden, and he trumpeted his own achievements in building the canal. In the course of doing so, I argue, Watson reshaped the narrative of how the Erie Canal was built, even if it was only for his own satisfaction and amusement. In the margins of Colden's report, Watson mastered, and indeed questioned, the history of the Erie Canal, editing the past to suit his own emotional needs. In the process of reading and annotating Colden's history of the Erie Canal, Watson created for himself an alternative history that would, at least in his own mind, contest the popular and indeed agreed upon story of how the canal was conceived and then built. What this study of Watson's relationship with print reveals, I would like to suggest, is an example of conscious legacy building during a time in which men so intimately involved in the early days of the republic wrestled, both publicly and privately, with how they would be perceived by historians.

Benjamin E. Park received his B.A. in English and History from Brigham Young, his MSc in Theology in History from University of Edinburgh, and his MPhil in Political Thought and PhD in History from University of Cambridge. After a two-year stint as the inaugural Kinder Institute Postdoctoral Fellow in Political History, he accepted a position as Assistant Professor at Sam Houston State. His first book, American Nationalisms: Conceiving Union in the Age of Revolutions, 1783-1833, was recently published by Cambridge University Press, and his scholarly articles have appeared in academic journals including Journal of the Early Republic, Early American Studies, Journal of American Studies, Journal of Mormon History, American Nineteenth Century History, and Journal of Religion and Society. His public writing has appeared in Newsweek and the Washington Post, among many other places, and he currently serves on the executive board for the Mormon History Association and as an associate editor of Mormon Studies Review. His research focuses on the intersections between religion, culture, and politics in America, and he is currently at work on two projects, one an analysis of the Transcendentalists' political theology and another a narrative of the Mormon city of Nauvoo as a moment of democratic crisis.

Steven Carl Smith is an historian of Revolutionary and early National America, with research and teaching interests in media, politics, and urban history. His first book, An Empire of Print: The New York Publishing Trade in the Early American Republic, published in June 2017 by the Pennsylvania State University Press as part of the Penn State Series in the History of the Book, traces the development of Manhattan's publishing trade from the end of the Revolution to the age of Jackson. Named the 2012 Malkin New Scholar by the Bibliographical Society of America, he is formerly the Andrew W. Mellon Fellow in Early American Literature & Material Texts at the University of Pennsylvania's McNeil Center for Early American Studies. He has received fellowships and grants from the National Endowment for the Humanities, the American Antiquarian Society, the Library Company of Philadelphia, the Gilder Lehrman Institute of American History, the New York Public Library, the New York State Archives, the New York State Library, and the New York Historical Association, and he has published in Journal of the Early Republic and Literature in the Early American Republic, among many other places. Prof. Smith received his Ph.D. in History from Mizzou, and he is currently an Assistant Professor of History at Providence College.