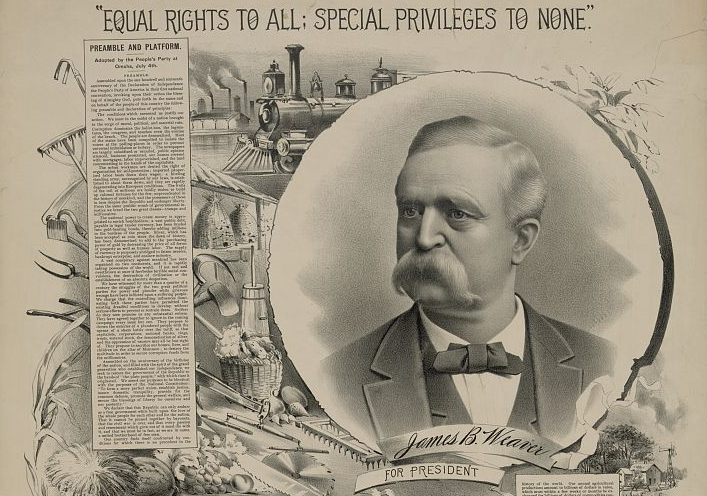 The Promise and Perils of Populism
An Evening Conversation Co-Sponsored with the American Enterprise Institute
In partnership with the American Enterprise Institute, the Kinder Institute will co-sponsor an October 25 public conversation on "The Promise and Perils of Populism" with Henry Olsen of the Ethics and Public Policy Center and Michael Kazin of Georgetown University. Both have written about populism in its contemporary and historical forms from both a critical and more supportive perspective. Olsen's new biography of Reagan explicitly encourages Republicans to appreciate the Gipper's deeply held commitment to the New Deal and a properly structured welfare state that empowers the poor and working class. Meanwhile, Kazin's biography of William Jennings Bryan still stands as a classic, and his leadership of Dissent magazine has helped it remain an exemplary publication of the American left.
Kazin and Olsen's discussion of the successes, shortcomings, and changing ambitions of populist politics and politicians will be moderated by MU Professor of History Catherine Rymph and held at 5:30pm in the Palmer Room at Reynolds Journalism Institute (RJI 100). The event is free and open to the public.

Michael Kazin received his B.A. from Harvard University and his Ph.D. from Stanford University, and he currently serves as Professor in the Department of History at Georgetown University. He is an expert in 19th- and 20th-century U.S. politics and social movements, and his most recent book, War Against War: The American Fight for Peace, 1914-1918 (Simon and Schuster, 2017), was named an Editor's Choice by the New York Times Book Review. He is also editor of Dissent, a leading magazine of the American left since 1954, and author of American Dreamers: How the Left Changed a Nation (Knopf, 2011), named a Best Book of 2011 by The New Republic, Newsweek/Daily Beast, and The Progressive. He is currently writing a history of the Democratic Party, to be published by Farrar, Straus, and Giroux. A full bio for Prof. Kazin can be found here.

A senior fellow at the Ethics and Public Policy Center, Henry Olsen studies and provides commentary on American politics. His work focuses on how to address, consistent with conservative principles, the electoral challenges facing modern American conservativism. This work is the basis of his recent book, The Working Class Republican: Ronald Reagan and the Return of Blue-Collar Conservatism, published in June 2017 by Broadside Books. Mr. Olsen has worked in senior executive positions at many center-right think tanks, including from 2006 to 2013 as Vice President and Director of the National Research Initiative at the American Enterprise Institute. His work has been featured in many prominent publications, including The Wall Street Journal, The Washington Post, National Review, and The Weekly Standard. He has a B.A. from Claremont McKenna College and a J.D. from the University of Chicago Law School, where he served as Comment Editor for the University of Chicago Law Review. A full bio for Mr. Olsen can be found here.