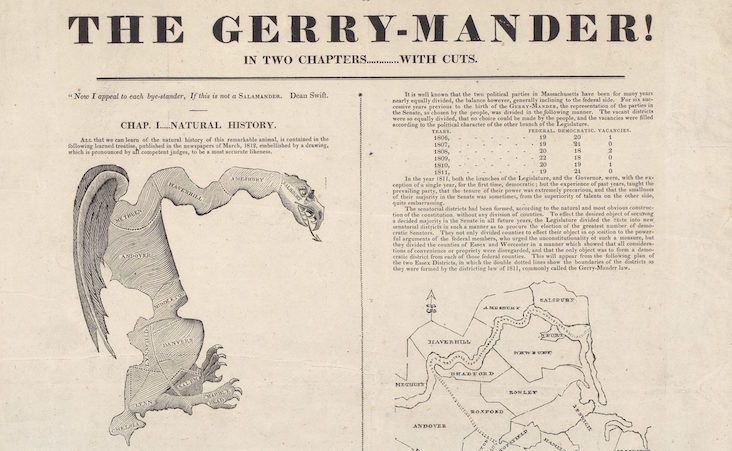 Thinking about Gerrymandering
Spring 2018 Colloquium Series
To kick off the Kinder Institute's Spring 2018 Colloquium Series, University of Oklahoma Executive Faculty Fellow and President's Associates Presidential Professor of Political Science Keith Gaddie will visit the Kinder Institute for a talk that explores the constitutionality of gerrymandering and various potential methods for curbing abuses in the redistricting process (see abstract below). The talk will be held at 1:00pm in Jesse Hall 410.
Abstract
Partisan gerrymandering is unsavory. But is it unconstitutional? Should it be? Recent litigation in Wisconsin, Pennsylvania, and North Carolina has brought the constitutionality of gerrymandering to the courts. In this talk, Professor Keith Gaddie discusses how the courts can engage partisan gerrymandering, and the potential for different empirical and constitutional tests to tame egregious abuses in the redistricting process.  Dr. Gaddie has consulted on many state remaps including the 2011 Wisconsin remap, and also in redistricting and voting rights litigation in several states. He has joined political scientist Bernie Grofman in amicus briefs to the courts advocating a workable standard for identifying and overturning egregious gerrymanders.

Keith Gaddie earned his PhD in political science from the University of Georgia (1993) and his undergraduate degree from the Florida State University (1987). He is currently Executive Faculty Fellow of the University of Oklahoma and Senior Fellow of OU's Headington College. Since 2015, he has also been President's Associates Presidential Professor of political science and journalism. Among his published works are the books Triumph of Voting Rights In the South (2009), Rise and Fall of the Voting Rights Act (2016), and The Three Governors Controversy: Skullduggery, Machinations, and the Decline of Georgia's Progressive Politics (2015). He has twice won the V.O. Key Award for outstanding book on southern politics. Dr. Gaddie is also Associate Director of the OU Center for Intelligence and National Security (an Intelligence Community Center for Academic Excellence) and general editor of Social Science Quarterly. From 2014-2017 he was chair of the department of political science at OU. Dr. Gaddie previously served on the faculty of Tulane University School of Public Health and Tropical Medicine and Centre College, and his current research focuses on architectural theory and practice in democracy, and redistricting reform.