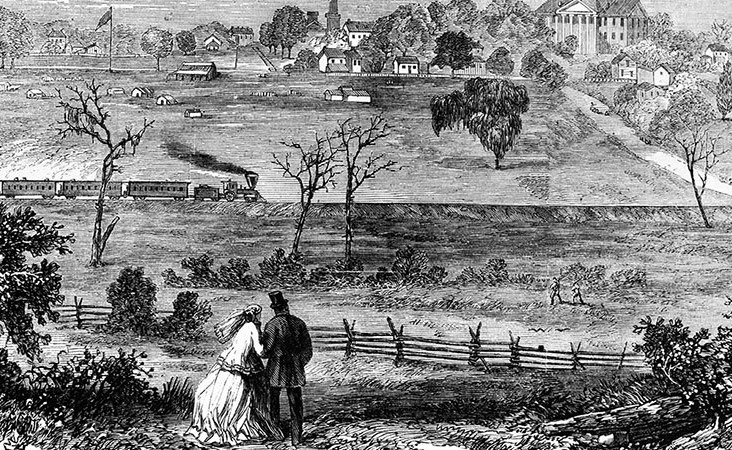 Settler Colonialism and the History of U.S. Women's Property Rights
Spring 2018 History Colloquium Series
Partially drawn from the introduction and first chapter of her recent book, The Threshold of Manifest Destiny: Gender and National Expansion in Florida, Western University Assistant Professor of History Laurel Shire's March 16 talk will examine the long history of white women being recruited to support colonization as a way to deconstruct the notion of "white women voters" as monolithic and to contextualize their support for Donald Trump in the 2016 presidential election (see abstract below). Sponsored by the MU Department of Women's and Gender Studies, with support from the Kinder Institute, Prof. Shire's talk will be held at 4pm in Leadership Auditorium.
Abstract
This lecture will offer some historical context about why 53% of white women supported Donald Trump in the 2016 Presidential election, in spite of numerous allegations against him of sexual assault, harassment, and discrimination. It will argue that white women have long been recruited by white, patriarchal, settler colonial regimes (as in the U.S.) to support colonization. White women's labor—both reproductive and domestic—has proven vital to settler colonial regimes in many places. In return, some white women have enjoyed rights and benefits denied to other women—those deemed less useful or desirable on account of racial, class, or other differences. In the early nineteenth century, borderland territories such as Florida offered white married women more property rights than any other U.S. jurisdictions. They did so, however, not to support female empowerment, but to buttress the rights of white women who owned slaves and white families that owned property. Such women, then, controlled their own property because they were white frontier settlers and slaveholders, not because they were women. Native American women and enslaved and free women of African heritage found far less support for their property rights in U.S. courts and legislatures. Indeed, white women's property rights often directly denied black and Native women the rights to their own bodies, children, and lands. This analysis helps deconstruct the idea of "white women voters" as in any way coherent or monolithic. Their politics are diverse, and historically based as much in racial and nationalist movements as in gendered concerns.

Laurel Clark Shire received her B.A. in Sociology from Johns Hopkins University and Ph.D. in American Studies from George Washington University, and she currently serves as Assistant Professor in the Department of History at Western University in Ontario. She is the author of The Threshold of Manifest Destiny: Gender and National Expansion in Florida (University of Pennsylvania Press, 2016), and her scholarship has appeared in Journal of the Early Republic and The Journal of Women's History, among other places. Prof. Shire previously taught at University of Hartford, and she has received fellowships and grants from the Center for the Study of Public History and Public Culture, the Women's Education and Leadership Fund, and the National Endowment for the Humanities.