Launched in January 2017 by Kinder Institute Associate Professor of Political Science Adam Seagrave, Starting Points is an interdisciplinary, online journal devoted to taking the long view of American political life by connecting recent events and issues in American politics both to cutting edge scholarship on the American founding and to contemporary discussions about the global context and importance of American constitutionalism. In addition to articles that look at the roots, the guiding ideals, and the present state of the nation's unique political traditions, the journal also features conversations between leading scholars of American political thought and history that allow for engaging, informal back-and-forths on topics ranging from the pedagogical to the historical to the theoretical.
While it is only a small sampling of the innovative work Starting Points has published since its launch, in recent months, Kinder Institute community members have written for the journal on topics including: "Natural Justice and the Amistad" (Director Justin Dyer); "Executive Exoneration and Congressional Clemency" (Graduate Fellow Edward Green); and "Plutocrats and Demagogues: The Prophetic Warning of Montesquieu" (Former Postdoctoral Fellow and current Sweet Briar College Assistant Professor Nicholas Drummond).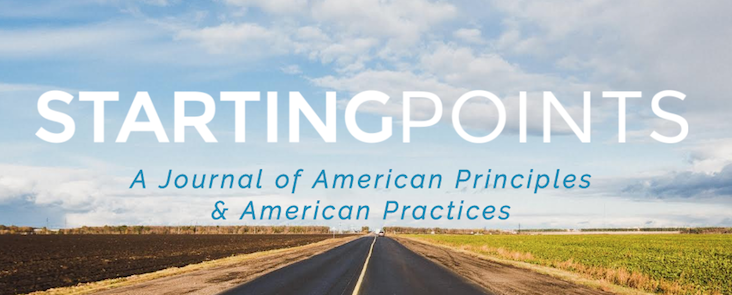 To subscribe to Starting Points, click here. For more information on submitting to Starting Points, see the call for essays below.
Submissions, which are accepted on a rolling basis, and inquiries can be sent to Prof. Seagrave at seagraves@missouri.edu.